Putin Emulates Stalins Tactics: Unveiling Nightmarish Punishment Battalions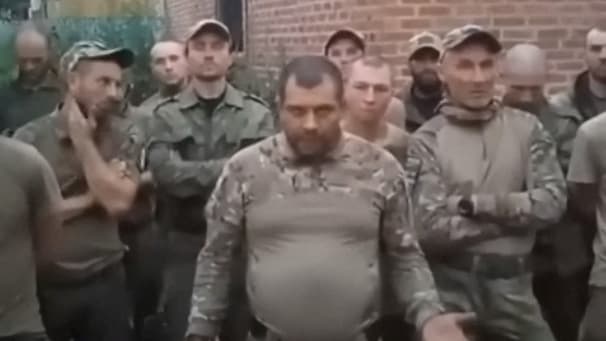 Title: Putin Sends Penal Units into Battle, Sparks Controversy and Concern over Soldier Treatment
Word Count: 348
In a surprising move, Russian President Vladimir Putin has reintroduced the practice of deploying penal units, known as "Storm-Z" squads, to the battlefield. These controversial squads consist of civilian and military offenders who are embedded within regular Russian army units. However, concerns are growing over the treatment and wellbeing of these soldiers, who are often sent to the most perilous parts of the frontlines.
The Storm-Z units, comprised of individuals being punished for disciplinary transgressions, initially face skepticism from soldiers in regular units. The regular troops perceive the Storm-Z fighters as expendable and their lives as less important. This mindset raises questions about the value placed on the lives of these individuals, whose punishment is often for violations such as drinking while on duty or refusing to follow orders.
Disturbing video footage emerged recently, capturing Storm-Z fighters airing complaints about their treatment. They alleged being deprived of crucial supplies, including ammunition, food, and water. Additionally, some of them voiced their refusal to carry out further combat missions due to these intolerable conditions.
However, it is important to note that the Russian Defense Ministry has not officially acknowledged the existence of these controversial Storm-Z units. Despite this lack of official confirmation, President Putin discussed the involvement of convicts in the army during a televised meeting with Russian servicemen. In his address, Putin commended these penal units for their sacrifice.
This reinstatement of penal units has ignited a fiery debate within Russian society and the international community. Critics argue that the implementation of such units harkens back to a darker period in Russian history, raising concerns over human rights violations and the treatment of soldiers. Advocacy groups have called for greater transparency regarding the Storm-Z squads, demanding official acknowledgement and the guarantee of basic necessities for these soldiers.
As the controversy continues to rage, the treatment of these Storm-Z fighters remains a pressing issue. The international community, particularly human rights organizations, will be closely monitoring the situation and urging the Russian government to ensure the proper care and treatment of these soldiers.
With the future of the Storm-Z units uncertain, it will be crucial for the Russian government to address these concerns and work towards a more inclusive and humanitarian approach to discipline within its armed forces.
"Pop culture advocate. Troublemaker. Friendly student. Proud problem solver."