The UAE as a Global Business Hub: Opportunities and Challenges for Relocating Companies
The United Arab Emirates (UAE) has slowly emerged as a thriving global business hub, attracting companies from around the world to set up their operations within its borders. Thanks to the business-friendly policies, state-of-the-art infrastructure, and a vibrant multicultural environment, the UAE offers a host of opportunities for companies looking to expand their reach and tap into new markets. But relocating to the UAE comes with its own set of challenges.
In this article, we will explore the opportunities and challenges that companies may encounter when relocating to the UAE.
What makes the UAE a global business hub?
There are many reasons why the UAE has rapidly become one of the key destinations for businesses seeking growth and expansion. Situated at the crossroads of Europe, Asia, and Africa, the UAE provides an ideal base for companies who want to tap multiple markets. Thanks to its well-connected, state of the art transportation infrastructure, the Middle Eastern country is an obvious choice for companies looking to expand their global footprint. The strategic location is also responsible for creating one of the most vibrant business hubs in the world, with a multicultural workforce, and a diverse talent pool offering companies access to a broad range of skills and expertise. This ultimately facilitates innovation, fostering cross-cultural collaboration.
Over the years, the UAE has diversified its economy beyond oil and gas, tapping into sectors like tourism, logistics, and technology. This fostered new opportunities for companies across various industries to enter new markets, forge partnerships, and benefit from the country's robust economic growth. The United Arab Emirates in fact offer a favourable business environment, with minimal bureaucracy, low tax rates, and various incentives for foreign companies. Thanks to the creation of Free Zones – such as Dubai International Financial Centre (DIFC) and Abu Dhabi Global Market (ADGM) – companies relocating to these areas can benefit from 100% ownership and simplified procedures for setting up and operating businesses. As the government opened the doors to global businesses looking to relocate, both the city and foreign investors started enjoying the many benefits of starting a company in the UAE.
While the bureaucracy surrounding business relocation and set-up in the UAE might seem daunting, doing extensive research and relying on a specialist PRO (Public Relations Officer) is the key to a smooth business set up. Businesses looking to import, export or conduct commercial activities in the UAE will need a trade licence issued by the Department of Economic Development. Here are the most common business licences:
Free Zone trade licence
Mainland trade licence
LLC company formation licence
The key challenges to overcome to relocate to the UAE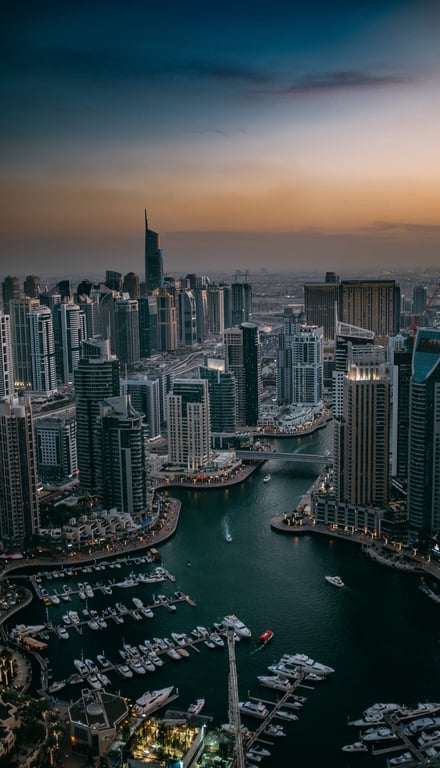 So, what challenges can you expect when relocating your business to the UAE?
Setting up operations in a new country is inevitably going to come with its own set of challenges and hurdles to overcome. When it comes to the United Arab Emirates, it is essential for relocating companies to understand and respect the local culture, customs, and business practices. Building strong relationships with Emirati partners and clients requires cultural sensitivity and adaptability. Showing cultural respect will lay the foundations of a stable business partnership.
While cultural challenges can be overcome with time, there will also be some legal and bureaucratic challenges you will find yourself facing. For instance, although the UAE offers a business-friendly environment, companies must navigate the local regulatory landscape correctly. Complying with the legal requirements, licensing procedures, and labour laws is crucial to ensure smooth operations and avoid potential legal issues. The United Arab Emirates government has been actively encouraging workforce localization, aiming to reduce reliance on foreign labour. It's crucial to keep this policy in mind when setting up your operations in the UAE, as companies are required to prioritise the hiring and training of local talent. This may pose recruitment and training challenges for some organisations, so it's something to be mindful of.
Lastly, you will find that, given the appeal of the UAE's business hub, competition in the area is fierce. Relocating companies must conduct thorough market research and develop effective strategies to differentiate themselves and capture good market share. Setting up or relocating your business is a complex process. The bureaucratic steps you will need to take can take a long time to understand and complete, and any mistake can lead to serious legal and financial consequences. But relying on a specialist PRO agency to support you with the bureaucratic aspect of business relocation and set up will take away the stress of having to deal with the legal aspects. At Time & Motion, we have decades of experience assisting thousands of companies in relocating their operations to the UAE.
Offering a compelling proposition as a global business hub, the UAE provides companies with numerous opportunities to expand their operations and access new markets. Its strategic location, business-friendly policies and diversified economy make it an attractive destination for relocating companies. By understanding the opportunities and challenges of relocating to the UAE, companies can make informed decisions and leverage the country's potential for long-term growth and success.
"Pop culture advocate. Troublemaker. Friendly student. Proud problem solver."