Regime-Held Syria Witnesses Unusual Protests as Assad Seeks International Rehabilitation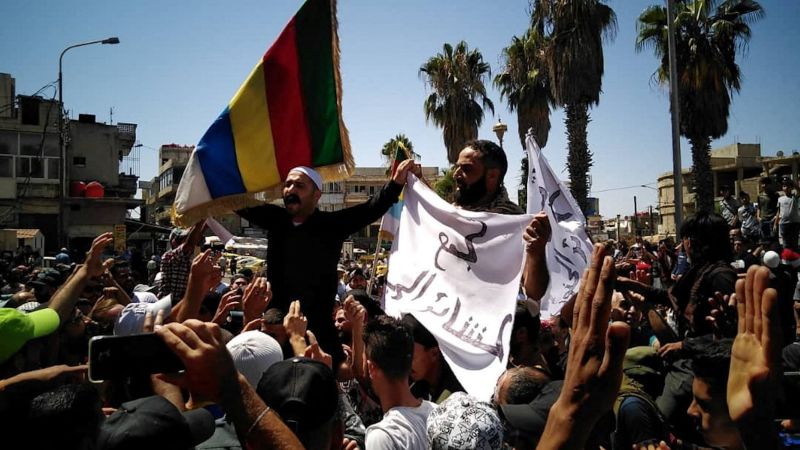 Title: Rare Protests Persist in Syria's as-Suwayda, Demanding Regime Change and Economic Reform
Date: [Insert date]
As-Suwayda, Syria – For over a week now, the southwestern city of as-Suwayda has been witnessing rare and persistent protests, as residents flock to the streets to demand regime change and better living conditions. The protests, taking place in areas governed by President Bashar al-Assad's regime, show no signs of slowing down, indicating growing dissatisfaction among Syrians.
The protest movement, led by the marginalized Druze minority, which comprises 3-4% of Syria's population, poses a significant threat to the Assad regime. Despite reclaiming control of most of the country with the support of allies Russia and Iran, Assad continues to face widespread discontent among his citizens.
The demonstrations have escalated to a point where protesters have managed to shut down the headquarters of the ruling Baath party, a significant symbol of the regime's power. Demanding both regime change and more political freedoms, the protesters aim to bring about a long-awaited transformation in Syria's governance.
However, the economic crisis plaguing the country has also amplified the grievances of the Syrian people. The Syrian pound has plummeted in value, losing over 80% of its worth, resulting in soaring prices of essential goods. Assad, in response, has blamed the economic collapse on Western sanctions and dismissed the notion of internal mismanagement, insisting that the ongoing war is a foreign conspiracy.
While security forces in as-Suwayda have so far displayed restraint, there remains a looming threat of violence should the protests spread to other parts of the country. The regime's response to these protests will be crucial in determining the future trajectory of the protests, as well as Assad's standing within Syria.
Amidst these developments, all eyes are now on Assad's upcoming moves, including speculation regarding his potential attendance at the United Nations' Climate Summit in November. The international community will closely observe whether Assad uses this platform to address the mounting dissent within his country or to deflect attention away from the grievances of his people.
As the protests persist in as-Suwayda, Syria finds itself at a crossroads, with the demands for regime change and economic reform becoming increasingly difficult for the Assad regime to ignore. The situation in Syria continues to evolve rapidly, and the coming days will reveal whether the government will heed the call for change and work towards a more inclusive and prosperous future for its citizens.
"Infuriatingly humble writer. Creator. Beer trailblazer. Internet lover. Hardcore communicator."