Pope Francis makes a low-key visit to Catholics in Buddhist Mongolia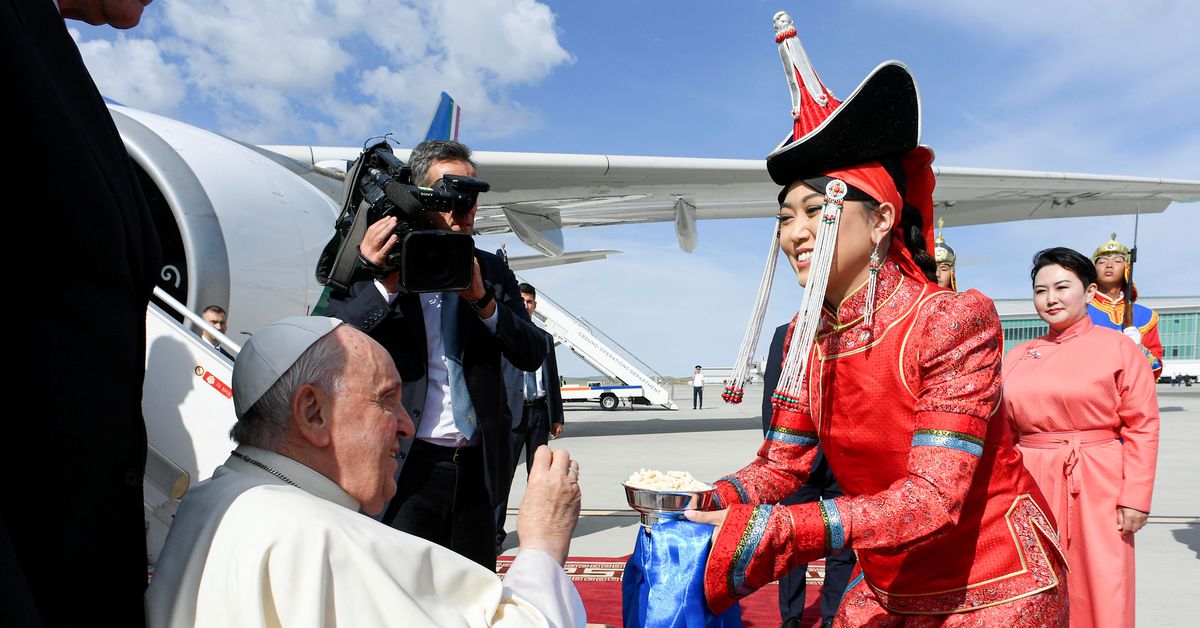 Title: Pope Francis Visits Mongolia, Highlighting Minority Catholic Communities
[City], [Date] – Pope Francis arrived in Mongolia today, embarking on a historic visit to the country's small Catholic community. Despite his superstar status abroad, the pope's presence barely made a ripple in the overwhelmingly Buddhist nation. With only 1,450 Catholics in Mongolia, this visit aims to draw attention to minority Catholic communities and issues in the peripheries of society and the world.
The pope's first engagement is scheduled for Saturday, where he will attend an official welcoming ceremony and address government leaders and diplomats. As he stepped off the plane at the airport, the pontiff was greeted by a woman offering solid yogurt, a customary Mongolian gesture of welcome. The pope seemed in good spirits and looked relatively fit after his recent intestinal operation, as he interacted with reporters on the plane.
In the capital, there are minimal signs of the pope's visit, with only a few banners dotting his motorcade route. However, well-wishers gathered at the city center upon his arrival, expressing excitement at his visit. Cardinal Giorgio Marengo serves as the administrator for the Catholic community in Mongolia.
During the flight, Pope Francis used the opportunity to wire greetings to various world leaders, including those of China. Relations between the Vatican and China have been strained in the past, but China's foreign ministry responded positively to the pope's greetings, expressing willingness to continue dialogue and improve relations.
Despite the limited Catholic presence in Mongolia, the pope is set to preside over several religious events during his visit. These include a Mass in the Steppe Arena and the inauguration of a charity center for the needy, regardless of their religion. By focusing on these religious events, Pope Francis emphasizes the importance of inclusivity and spreading love and compassion to all individuals, regardless of their background.
As Pope Francis begins his visit to Mongolia, he hopes to shine a light on the unique challenges faced by minority Catholic communities in remote areas around the world. This visit not only provides a platform for the pope to address these issues but also serves as a symbol of unity and compassion in an increasingly diverse world.
About The Daily Guardian:
The Daily Guardian is a leading online news publication that delivers accurate and reliable news from around the world. With a commitment to journalistic integrity, The Daily Guardian provides its readers with up-to-date news, features, and analysis on a wide range of topics, ensuring a comprehensive understanding of global affairs.
 "Infuriatingly humble travel fanatic. Passionate social media practitioner. Amateur writer. Wannabe problem solver. General food specialist."