Laid-off Yellow drivers face challenges in finding quality employment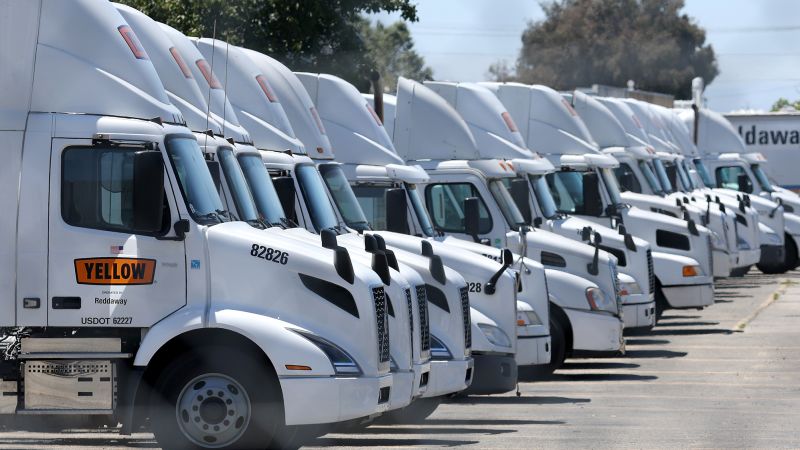 Title: Trucking Industry Faces Challenges as Yellow Shutdown Leaves Thousands Jobless
Mark Roper, a seasoned truck driver with 32 years of experience, finds himself among the 30,000 workers left unemployed after Yellow, a transportation company, recently shut down operations. Roper, who is 59 years old, is unwilling to retire and has immediately begun searching for job opportunities elsewhere. Unfortunately, finding a trucking job that allows him to be home with his family every night, as his previous one did, proves to be a daunting task within the industry.
The closure of Yellow has left Roper uncertain about his future. With no news about a severance package from the company, he currently relies on unemployment benefits to make ends meet. Yellow, along with ABF and TForce, operates as a less-than-truckload carrier. This means that drivers have specific routes throughout the day and can return home every night. However, the less-than-truckload sector represents a relatively small portion of the overall trucking industry compared to the much larger truckload sector.
Truckload carriers make up a sector at least five times larger than their less-than-truckload counterparts. Truckload drivers often spend weeks on the road, sleeping in their cabs and showering at truck stops. Due to high turnover rates, truckload carriers are hiring more frequently, while positions in the less-than-truckload sector are relatively few and far between.
Roper, despite preferring the home-time offered by less-than-truckload carriers, is willing to consider truckload positions if necessary. His main priority remains spending quality time with his family. However, the trucking industry as a whole has experienced a slowdown, primarily due to Americans shifting their spending habits from services to goods during the pandemic. With the reopening of social experiences, the demand for trucking services has decreased.
Concerns arise as Yellow fails to provide any information regarding their plans for their affected workers or any potential bankruptcy filing. The company cites failed negotiations with the Teamsters union for their current predicament, while the union accuses the company's leaders of mismanagement.
Roper's previous trucking job provided for his family of six children, and he remains hopeful about securing a new position with one of the less-than-truckload carriers he has applied to. However, if that doesn't work out, he is prepared to explore opportunities in the truckload sector to ensure that his family's needs are met.
As the trucking industry grapples with challenges and changes, the fate of thousands of workers like Mark Roper hangs in the balance. The Daily Guardian will continue following the story closely, providing updates on the trucking industry and its impact on workers' livelihoods.
"Infuriatingly humble writer. Creator. Beer trailblazer. Internet lover. Hardcore communicator."