London pro-Palestinian protests call for an end to Gaza siege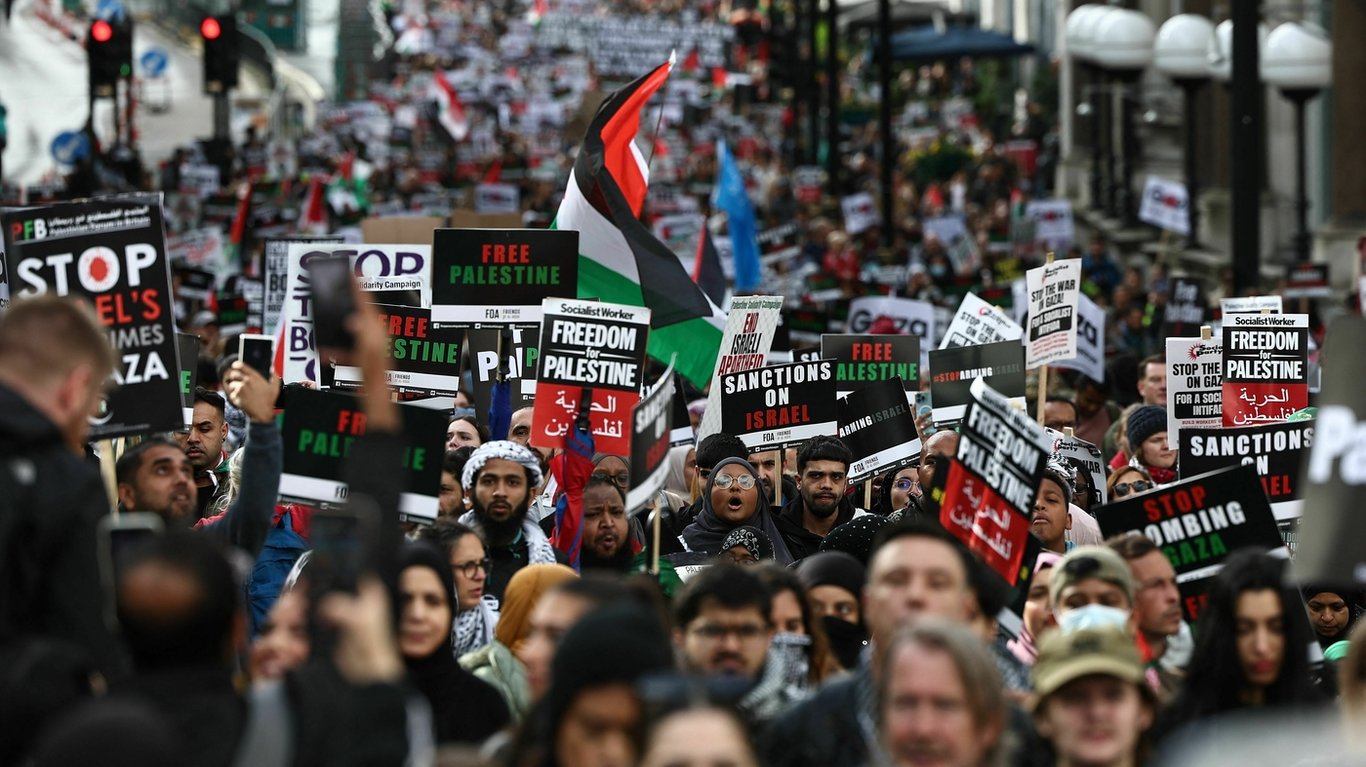 Title: Tens of Thousands Protest in London Demanding an End to the Siege of Gaza
London, UK – In a display of solidarity, tens of thousands of protesters marched through central London on Saturday, demanding an immediate end to the ongoing siege of Gaza. This rally, organized as part of a worldwide movement expressing anger over Israel's military actions in the region, saw a staggering number of participants despite the heavy rain.
According to the British police, an estimated 100,000 people braved the inclement weather to voice their outrage and call for justice. As the march progressed, counter-terrorism officers closely monitored the event, searching for any signs of support for the banned groups Hamas and Hezbollah. Fortunately, the protesters adhered to their demands solely for an end to the Gaza siege.
With passion and determination, participants chanted the powerful message, "from the river to the sea, Palestine will be free," a chant that remains protected under the grounds of free speech. The significance of this demonstration was further emphasized by the recent entry of humanitarian aid into Gaza. On Saturday, several trucks filled with vital medical supplies and food were finally permitted to pass through, a small triumph for those advocating for the besieged Palestinian territory.
During the march, countless Palestinian flags fluttered in the wind as protesters united in their demand for Israel to swiftly end the siege and immediately halt all airstrikes on Gaza. However, officials urged those demonstrating to consider the feelings of Britain's Jewish communities, highlighting the importance of promoting peaceful dialogue and understanding amidst heightened tensions.
Unfortunately, alongside the show of solidarity, there were reports of disorder and instances of hate speech during the march. These incidents serve as a reminder that hatred and discrimination have no place in any peaceful protest. Shockingly, anti-Semitic offenses in the UK have soared by a staggering 1,300% compared to last year, while anti-Muslim crimes have also doubled, underlining the urgent need for unity and empathy among communities.
It is worth noting that a pro-Palestinian rally scheduled in Berlin was pre-emptively banned for safety reasons. In contrast, a demonstration in support of Israel was allowed to proceed, intensifying the ongoing debate surrounding the Israeli-Palestinian conflict and the right to protest.
Meanwhile, this global movement has been felt far beyond British borders. Pro-Palestinian demonstrations have taken place in Rome, Sydney, Washington, D.C., Amman, Beirut, and numerous Muslim-majority countries. The world is watching as waves of solidarity and frustration continue to sweep across continents, reflecting the deep concern for the plight of Palestinians.
As the rally drew to a close, the resolute message that resonated in London was the demand for justice, peace, and an end to the violence in Gaza. The voices of the thousands who gathered must now be heard and acted upon by global leaders in their pursuit of a just resolution to this long-standing conflict.
"Hardcore web nerd. Twitteraholic. Analyst. Reader. Coffee guru. Travel ninja. Amateur troublemaker. Zombie geek."