Key Takeaways from the Ravens 20-19 Preseason Victory against the Philadelphia Eagles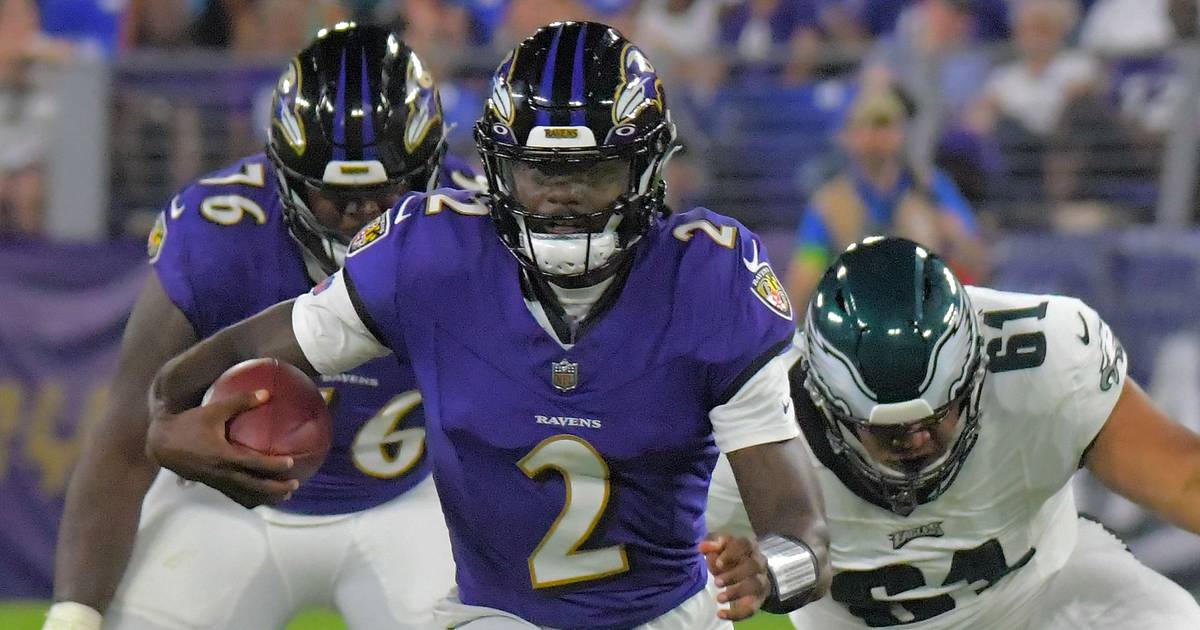 Title: Baltimore Ravens Secure Preseason Victory, But Offensive Struggles Persist
Subtitle: Questions remain as Ravens face challenges in their pursuit of regular-season form
[City], [Date] – The Baltimore Ravens took home a hard-fought victory in their first preseason game against the Philadelphia Eagles, extending their impressive preseason winning streak to 24 games. However, the game also revealed various areas of concern for the Ravens' offense and defense.
Led by backup quarterback Josh Johnson, the Ravens' offense stumbled out of the gate. They went three-and-out on three out of their first four drives, struggling to find rhythm and generate scoring opportunities. Despite this early setback, backup quarterback Tyler Huntley injected vigor into the team when he entered the game in the third quarter. His athletic ability and up-tempo approach breathed life into an otherwise stagnant offense.
Acknowledging the ongoing progress, the Ravens' new offensive coordinator, Todd Monken, recognized that the team is still in the process of fine-tuning their strategies ahead of the regular season. Several key players, such as rookie wide receiver Zay Flowers, showcased qualities beyond traditional statistics. Flowers may not have recorded any receptions, but he demonstrated his value by drawing penalties and executing crucial blocks.
On the defensive front, rookie David Ojabo displayed moments of promise as a pass rusher but struggled against the run. This mixed performance highlighted his overall potential, yet also signified areas for improvement in the future. Additionally, the Ravens' lack of depth in the cornerback position became evident as the Eagles' quarterbacks found success in the passing game during the first half.
The game also proved challenging for wide receiver James Proche II and offensive lineman Ben Cleveland, both of whom find themselves on the roster bubble. Proche's fumble on a punt return and Cleveland's struggles against a more proficient defensive lineman underscored the obstacles they must overcome to secure a spot on the final roster.
As the Ravens' regular-season opener looms on September 10th, the team recognizes the lingering uncertainties that need addressing. While the preseason victory is undoubtedly a positive step forward, improvements in both offense and defense will be crucial to their success in the upcoming season.
About The Daily Guardian:
The Daily Guardian is an online news platform dedicated to providing comprehensive and accurate coverage of the latest sports news, insightful features, and analysis across various disciplines. We strive to deliver engaging content to our readers, ensuring they stay informed and entertained.
"Travel enthusiast. Alcohol lover. Friendly entrepreneur. Coffeeaholic. Award-winning writer."