Fatal Fire Erupts on Ship Carrying Thousands of Cars in the North Sea – The Daily Guardian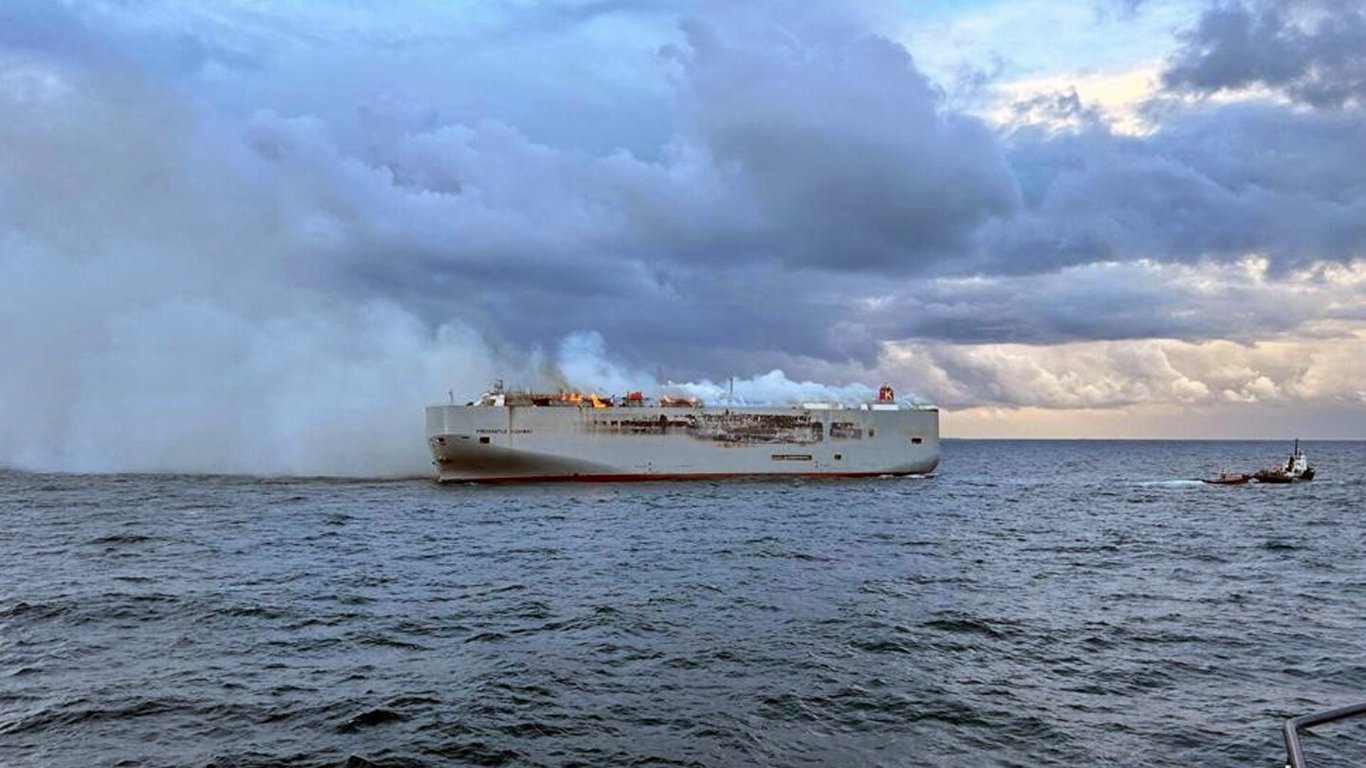 Massive Fire Breaks Out on Freight Ship Carrying Thousands of Cars in the North Sea
(Netherlands) – Tragedy struck on a freight ship off the coast of the Netherlands as a massive fire engulfed the vessel, resulting in the loss of one crew member's life and leaving others injured. The incident occurred in the North Sea, near the Wadden Sea, a UNESCO World Heritage-listed area renowned for its significance in supporting migratory birds.
The Dutch coast guard responded swiftly to the distress call, deploying boats and helicopters to rescue the 23 crew members onboard. Unfortunately, their attempts to extinguish the flames proved futile, forcing some crew members to leap into the sea while others suffered broken bones, burns, and breathing difficulties.
With the cause of the fire still unknown, authorities are meticulously investigating the circumstances surrounding the incident. Furthermore, it remains uncertain how the crew member lost their life during the chaos. The focus now shifts to saving the stricken vessel from sinking near the crucial migratory bird habitat.
Despite ongoing efforts to stem the fire's progression, progress is contingent on both favorable weather conditions and the extent of the ship's damage. Currently, two ships are desperately hosing down the freighter to cool its sides, yet firefighters have been unable to fully extinguish the flames.
The ship, named Fremantle Highway, was en route from Germany to Egypt when disaster struck. Its cargo includes around 3,000 cars, including 25 electric vehicles, which poses additional challenges when it comes to combating the fire.
Authorities are keenly aware of the potential environmental impact of the incident. Fortunately, the North Sea shipping lanes remain accessible to other vessels, and there have been no immediate reports of oil or fuel leakage. Salvage companies and water authorities are actively collaborating to minimize any potential damage.
The Dutch Ministry of Infrastructure and Water Management has granted permission to salvage the ship once it is feasible to do so. Meanwhile, German authorities are closely monitoring the situation and offering support to their Dutch counterparts.
As the fate of the vessel hangs in the balance, efforts are firmly focused on gaining control over the blaze and securing the ship. It is clear that a challenging road lies ahead, but with the perseverance of all involved parties, hopes remain high for a successful resolution to this devastating incident.
 "Future teen idol. Hardcore twitter trailblazer. Infuriatingly humble travel evangelist."