Cortana, previously a prominent feature of Windows phones, is gradually being phased out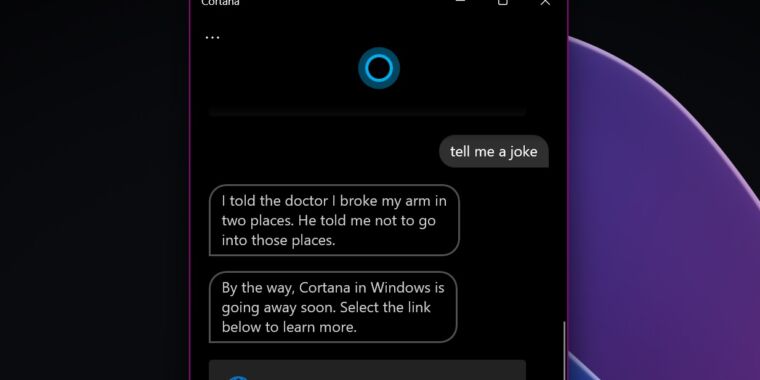 Microsoft's Cortana App Set to be Integrated into Windows 11
In a major move, Microsoft has announced its plans to integrate its new ChatGPT-powered Bing Chat service into all of its products, including the much-anticipated Windows 11. As part of this integration, the tech giant will be shutting down the standalone Cortana app in both Windows 10 and Windows 11.
The decision to shut down the Cortana app comes as no surprise to users, as some have already reported that the app has stopped working following a recent update. It seems that Microsoft has been gradually deprioritizing Cortana, with support for the iOS and Android versions ending earlier this year.
Instead, Microsoft has been focusing on using Cortana for basic productivity tasks and Bing searches. Originally introduced on Windows Phone, Cortana made its way to Windows 10, Android, and iOS. However, it appears that the company is now directing users towards the "voice access" accessibility feature in Windows 11 as an alternative to Cortana.
While Cortana will no longer be available as a standalone app, it will still be included in Microsoft Outlook and Microsoft Teams. However, industry insiders suggest that these versions may eventually be replaced by new AI-driven versions.
Interestingly, it seems that the future of Cortana may lie in its original form as an AI helper in the popular Halo franchise. Microsoft hints at the possibility that Cortana may only be heard in this capacity going forward.
The integration of ChatGPT-powered Bing Chat into Windows 11 is a strategic move by Microsoft to streamline its products and services. By discontinuing the standalone Cortana app, the company is concentrating its efforts on enhancing the functionality and user experience within its operating system. With the upcoming release of Windows 11, users can expect a more seamless and integrated digital assistant experience.
"Pop culture advocate. Troublemaker. Friendly student. Proud problem solver."