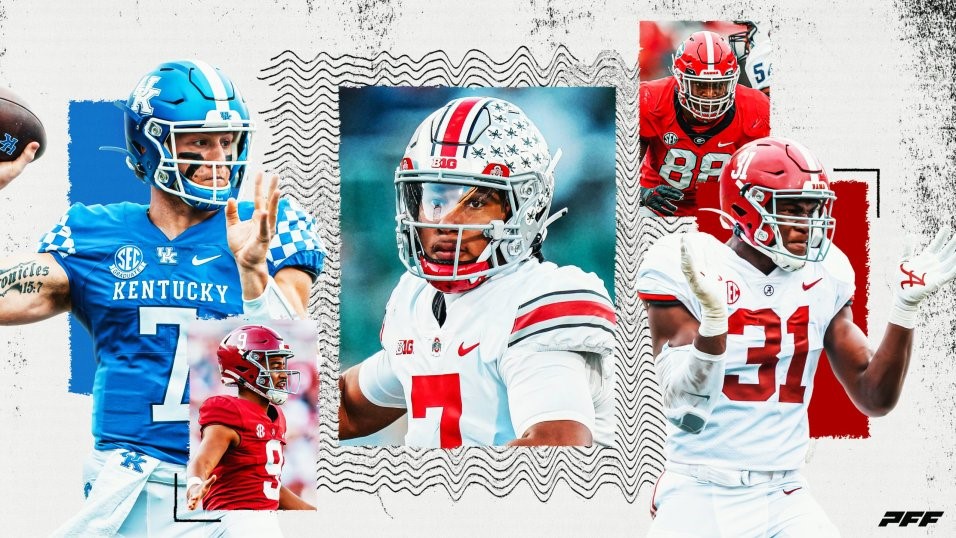 The NFL season is just around the corner, and there are plenty of NFL rookies. that will be worth keeping an eye on this fall as they look to be the league's next great superstar. Below, we look at several rookies who could take the league by storm.
QB Bryce Young – Carolina Panthers
Young was the first overall pick in the draft by the Carolina Panthers, and now the NFC South organization will hope that the Alabama quarterback can help take the franchise back to the Super Bowl. Young is coming off a terrific career at Alabama, including a national championship season in 2020 and a Heisman Trophy win in 2021. During his time with the Crimson Tide, he led them to a 23-4 overall record, completing 65.8% of his passes for 8,356 yards and 80 touchdowns while throwing just 12 interceptions. He also added seven touchdowns on the ground in his two seasons at Alabama.
The Panthers are coming off a season in which they went 7-10. After head coach Matt Rhule was fired following a 1-4 start, the Panthers rebounded under interim head coach Steve Wilks to go 6-6 in their last 12 games. They tabbed former Indianapolis Colts head coach Frank Reich this offseason to lead the organization into the 2023 season.
QB CJ Stroud – Houston Texans 
CJ Stroud was the second overall pick in the draft by the Houston Texans as the franchise hopes that drafting the former Ohio State standout will be a hard rest for the organization that has struggled mightily to find consistency. Stroud was a dominating quarterback at Ohio State, where he was the Big Ten Offensive Player of the Year twice and the Big Ten Quarterback of the Year twice in his career. He also earned two All-American selections. Overall, in his two years as the starting quarterback, Stroud went 21-4 while completing 69.3% of his passes for over 8,000 yards and 85 total passing touchdowns. Stroud has all the skills to be a tremendous NFL starting quarterback: arm strength, accuracy, vision, and more. The Texans hope that Stroud, alongside first-year head coach DeMeco Ryans will be able to get the Texans back to the playoffs for the first time since 2019.
QB Anthony Richardson – Florida
The former Florida quarterback might be the most intriguing player in this article as he has by far the highest ceiling. An athletic freak, Richardson is one of the best testers at the quarterback position in NFL history. In this year's NFL combine, Richardson measured in at 6-foot-4 and 244 pounds while running an extraordinary 4.43, an amazing time for some of his size. His size and athleticism is very similar to that of former NFL MVP Cam Newton when he was coming out of college.
That being said, while Richardon is a physical specimen, there is still a lot of questions for him when it comes to his on-the-field production. At Florida, Richardson had his fair share of ups and downs and only completed 54.7% of his passes for 3,105 yards and 24 touchdowns over 24 career games. He also threw 15 interceptions. The 21-year-old quarterback is young for a rookie quarterback and will likely require a year of development before he is truly ready for the rigors of the NFL.
QB Will Levis – Tennessee Titans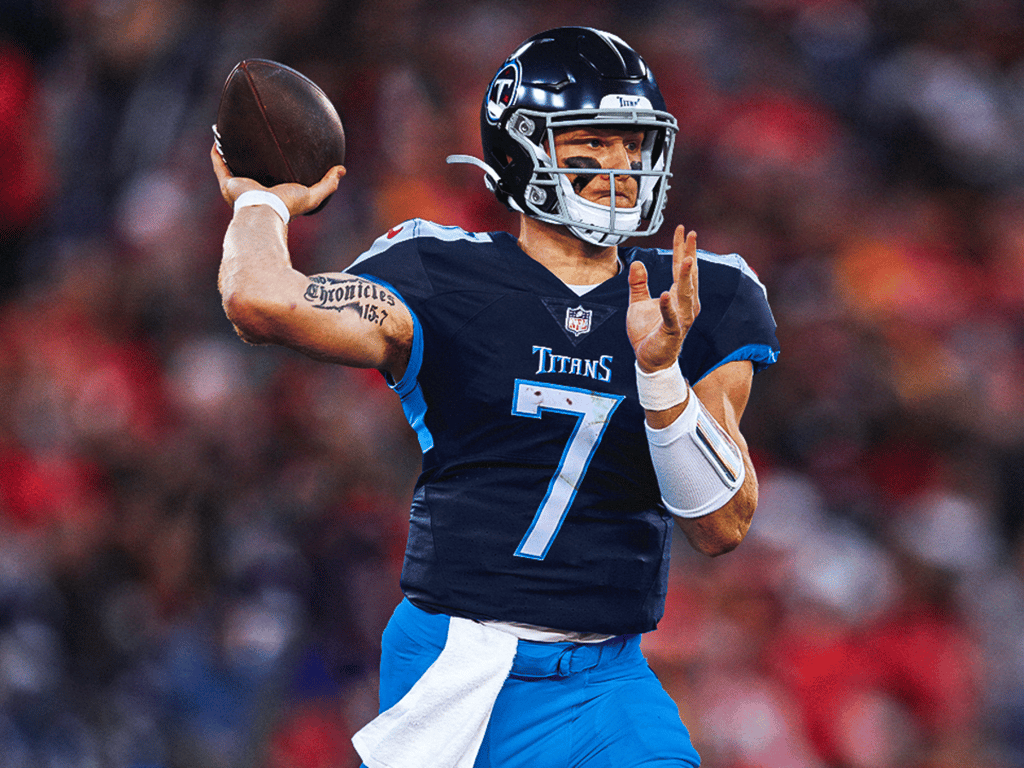 Levis is very similar to Richardson in the fact that physically, he was by far one of the best quarterbacks in the draft, thanks to a great combination of size and athleticism. Levis measured in at the NFL Combine at 6-foot-3 and 229 pounds; while he did not run the 40-yard dash, his athleticism and speed made him a highly touted quarterback coming out of Kentucky.  That being said, production is something that was once again up-and-down for Levis. While he posted strong junior season numbers for Kentucky, he took a bit of a step back in some respects as a senior for the Wildcats as well and was turnover-prone throughout his career, with 23 interceptions in 24 games at Kentucky. Those turnovers and turnover-worthy plays will be under even more scrutiny at the NFL level.
Levis will battle former first-round draft pick Malik Willis to be the Titans' backup quarterback while Ryan Tannehill returns for his fifth season as the organization's starting quarterback. DraftKings Kentucky promo codes have all you Will Levis fans covered as we expect big things from him in the NFL.
RB Bijan Robinson – Atlanta Falcons
The Atlanta Falcons surprised everyone in this year's NFL Draft when they drafted Bijan Robinson with the eighth overall pick. The 2022 Doak Walker Award and unanimous All-American was nothing short of spectacular at the University of Texas, rushing for 3,410 yards and 33 touchdowns across three seasons.
Drafting running backs early in the NFL Draft is risky; they tend not to have long careers and play at the position that is the most replaceable in the league. The Falcons also arguably had bigger needs as well at the time in the draft.
That being said, Robinson will step into a running back room with the Falcons, in which he will be immediately able to start. Atlanta will look at him to be the workhorse of their offense, and he'll be among the favorites to be NFL Offensive Rookie of the Year thanks to the amount of opportunities he will receive. Robinson has both the size (5-foot-11, 215 pounds) and the speed (4.46 forty-yard dash) to be a premier running back in the league.
DT Jalen Carter – Philadelphia Eagles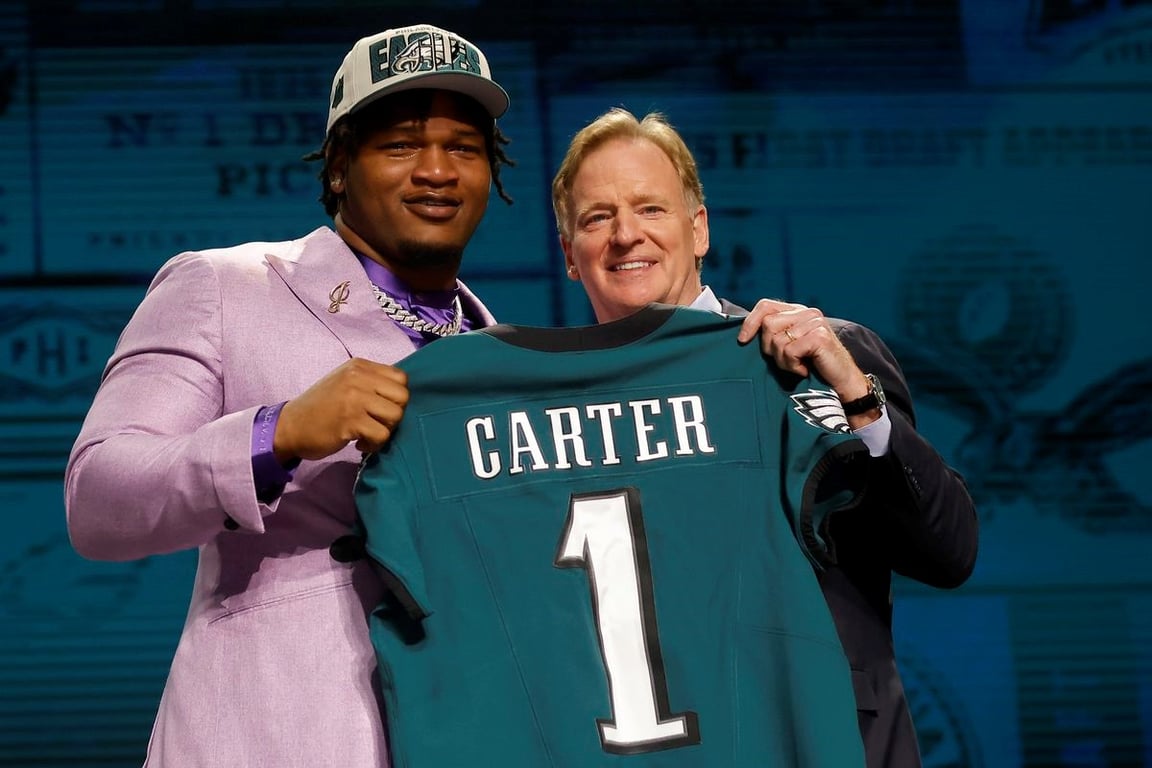 Carter was arguably the most talented player in April's NFL Draft, but due to off-the-field issues, Carter ended up falling to the Eagles at No. 10 overall. The former Georgia Bulldog is part of one of the NFL's best defenses, which is a scary proposition for the rest of the league. The defensive tackle has great size at 6-foot-3 and 310 pounds but has amazing athleticism as well. He wasn't overly productive at the Georgia but there are not many concerns regarding his potential production at the next level either.
RB Jahmyr Gibbs – Detroit Lions
Another surprising pick in the draft was when the Lions drafted Gibbs with the 12th overall pick in the NFL Draft. At the time, the Lions already had a crowded backfield. Since the Lions traded DeAndrew Swift to the Philadelphia Eagles the decision to draft Gibbs is still a head-scratching one. That being said, Gibbs is a swiss army-knife-type running back who can do a little bit of everything. He can be dominant on the ground as a ball carrier, he can be a great receiving back, and he could also be a tremendous punt and kick returner. We'll see how the Lions choose to utilize Gibbs, but there is a high ceiling for the Dalton, Georgia native, and he'll be a rookie of the year candidate.
WR Jaxon Smith-Njigba – Seattle Seahawks
Finally, there is wide receiver Jaxon Smith-Njigba of the Seattle Seahawks. The former Ohio State wide receiver likely would've gone even higher in April's NFL Draft, had he not been injured for most of his senior season. Smith-Njigba still ended up going 20th overall in April. The 6-foot-0 wide receiver has good size along with great athleticism and speed, recording a 4.52 forty-yard dash at the NFL Combine in February. When on the field for Ohio State, Smith-Njigba was incredibly productive. He recorded 95 receptions for 1,606 yards and nine touchdowns as a sophomore. He joins a Seahawks wide receiver room that is one of the best in the NFL, headlined by himself but also DK Metcalf and Tyler Lockett. His production will likely not be as high as some may expect this fall due to sharing.
"Pop culture advocate. Troublemaker. Friendly student. Proud problem solver."