Young Indians Urged to Work 70 Hours a Week, Asserts Billionaire Tech Founder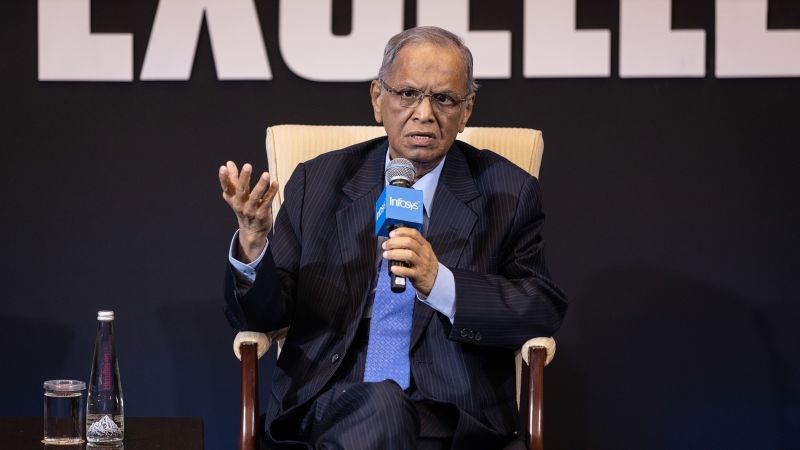 Title: Infosys Co-founder Urges Indian Youth to Work Longer Hours for Economic Growth
Mumbai, India – N.R. Narayana Murthy, co-founder of India's renowned IT company Infosys, believes that young people in India need to put in exceptionally long hours to drive the country's economic growth. In a recent speech, he suggested that young Indians should work 70 hours a week, taking inspiration from the post-World War II work culture in Germany and Japan.
Murthy's remarks come as a response to his concerns over young Indians adopting undesirable Western habits instead of actively contributing to the progress of their own nation. He emphasized the need for Indian workers to learn from other emerging markets, particularly China, and recommended that corporate leaders motivate young people by highlighting India's increasing global respect and the importance of consolidating progress.
India currently boasts a projected 6.3% economic growth this year, according to the International Monetary Fund (IMF). Murthy believes that by infusing the strong work ethic prevalent in preeminent economies like Germany and Japan, India can further bolster its economic prosperity.
However, his statements sparked a controversy amidst changing work cultures in the West and China, where reduced working hours and improved work-life balance have gained advocacy. Critics argue that Murthy's call for extended working hours overlooks the growing sentiment of overwork and underpayment faced by many Indians.
Social media users rapidly took to Twitter and other platforms to express their disagreement with Murthy's stance. Citing surveys that indicate increasing instances of burnout and stress, they argue that the Indian workforce is already burdened, and calling for even longer working hours is not a practical solution.
CNN has reached out to Infosys for comment on Murthy's statements but has yet to receive a response. It remains to be seen how corporate leaders, Indian youth, and the public will react to these controversial remarks and whether a dialogue will ensue regarding work-life balance and the future of India's workforce.
As the debate surrounding the optimal work culture for India continues, it is clear that finding the right balance between work and personal life is essential for long-term sustainable growth. The Daily Guardian will be closely monitoring the response from various stakeholders and will provide updates as the story develops.
"Pop culture advocate. Troublemaker. Friendly student. Proud problem solver."