Vice President Harris highlights US leadership in space exploration | USA newspaper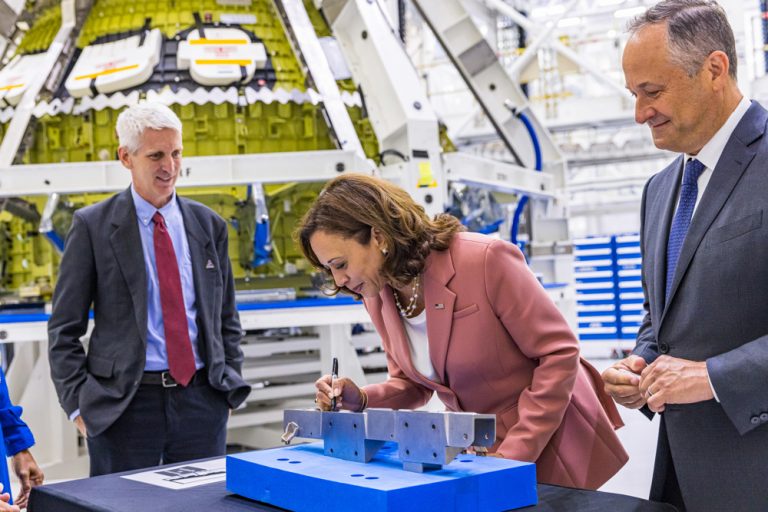 Miami, (EFE). US Vice President Kamala Harris on Monday highlighted the country's leadership in space exploration, noting that the Artemis program "aims to enable humans to live and work on the Moon," in addition to setting their sights on Mars as the next step.
The Vice President traveled to Cape Canaveral, Florida (USA), to witness the take-off of the Artemis I mission, scheduled for this morning and which had to be suspended at the last minute until further notice due to malfunctions in one of the engines of the mighty SLS rocket.
"What happened today was a test. It was a test of pure innovation, inspired by the possibilities of what we know could be, and US leadership in it all," Harris told reporters at the Kennedy Space Center.
"We have been and are pioneers," he asserted, after highlighting the innovations of the US space program in the past 50 years; That is, since the United States planted a "flag on the moon" thanks to the Apollo program.
The vice president also emphasized that "the return on investment for space exploration and the ability to put humans on the moon where they can work and live will be enormous."
During her visit to the Kennedy Center facilities, the vice president had the opportunity to observe the assembly of capsules that will be used on the Artemis II missions, which will make a manned flight to the Moon, and III, which will put the first crew in over 50 years.
"The technology is extraordinary," he revealed, revealing the capsules he had seen during his visit, where he also met astronauts Randy Bresnik and Jessica Meir, as well as with a group of students.
He also noted that the Artemis III mission would have in its crew the first woman and person of color to travel to the Moon, as this would provide a "diversity of thought" that would provide a better result in scientific investigations developed in space.
NASA suspended the launch of the historic unmanned Artemis I mission Monday due to a failure in one of the four RS-25 engines of its powerful SLS (Space Launch System) rocket, which was supposed to blast off with the Orion capsule in the upper deck for a six-week mission to orbit the moon and return to Earth.
NASA engineers do not rule out the possibility of the mission launching at the next available date, next September 2, but it will depend on what analysis shows in the next 24 or 48 hours, Artemis I managers said in a conference call.
The goal of the mission is to test the capabilities of the powerful 98-meter SLS rocket and Orion spacecraft, which can carry four astronauts.
 "Future teen idol. Hardcore twitter trailblazer. Infuriatingly humble travel evangelist."