Unexpected Visit by US Blinken to Iraq Raises Concerns of Regional Conflict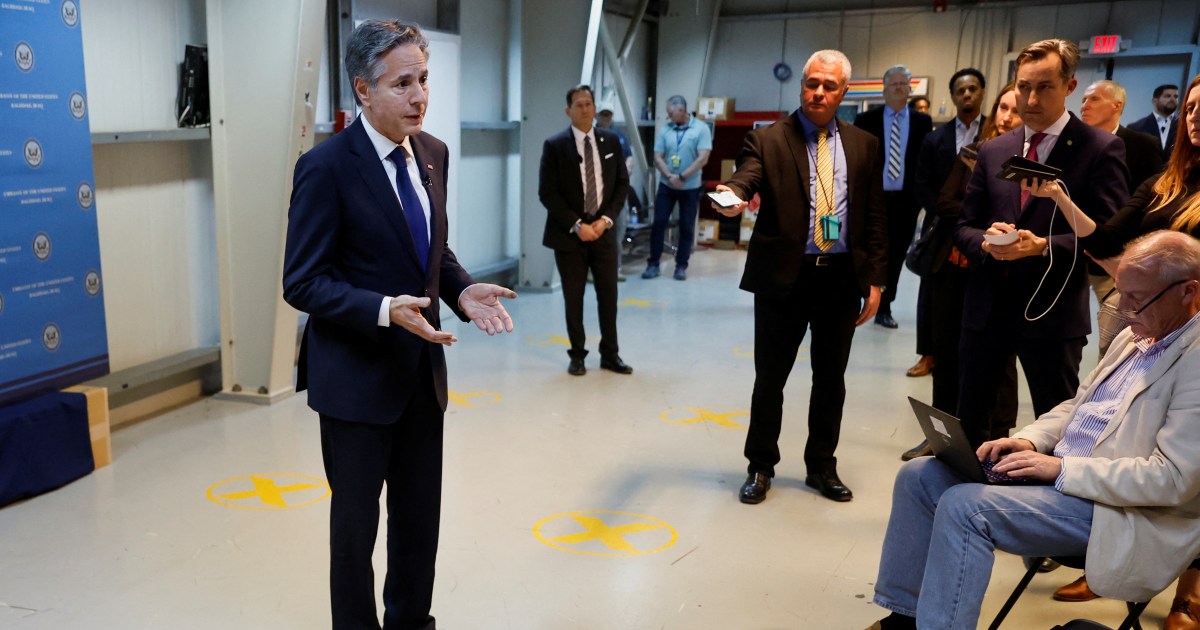 Title: US Secretary of State Antony Blinken Holds Surprise Meeting with Iraqi Prime Minister as Regional Tensions Escalate
Date: [Insert Date]
In a surprising turn of events, US Secretary of State Antony Blinken paid an unexpected visit to Iraq today as concerns grow over escalating regional conflict due to the ongoing Israel-Hamas war. During his trip, Blinken met with Iraqi Prime Minister Mohammed Shia al-Sudani to discuss various pressing issues, including recent attacks on US forces in the country and the involvement of Iran-backed groups.
One of the key topics at the meeting was the attacks on US forces, which have been on the rise since the commencement of the Israel-Hamas conflict. Blinken sought Baghdad's assistance in cracking down on the Iran-backed militia groups responsible for these assaults. Emphasizing the importance of Iraqi sovereignty, he stressed the urgent need to prevent these groups from engaging in violent activities.
Prime Minister al-Sudani, in turn, called for an immediate ceasefire in Gaza and urged regional containment of the crisis to prevent its further spread. He echoed Blinken's concerns about the escalating tensions and emphasized the vitality of de-escalation efforts to safeguard the stability of the region.
The attacks on US forces in Iraq and Syria, primarily claimed by the "Islamic Resistance in Iraq" group, have further alarmed the United States. The severity of these incidents has led to intensified diplomatic efforts in the Middle East, with growing anger over the mounting death toll from Israel's offensive against Hamas.
Blinken's visit to Iraq follows his recent stops in Israel and Jordan. It comes on the heels of Lebanon accusing Israel of killing four civilians in an air raid. The Lebanese armed group, Hezbollah, has warned Israel that it will pay the price for these alleged attacks. The leader of Hezbollah also cautioned about the possibility of a broader regional conflict as long as Israel continues its bombardment of Gaza.
Despite the threats of escalation from Kataib Hezbollah, Blinken is set to travel to Turkey for talks with his counterpart, Hakan Fidan. This move further highlights the United States' proactive approach in the region to mitigate potential risks and foster diplomatic solutions.
As Blinken embarked on his diplomatic mission, Prime Minister al-Sudani also began his regional tour, which includes visits to Iran and Persian Gulf nations. The aim of his tour is to foster dialogue and explore diplomatic avenues to address the ongoing crisis and prevent further complications.
As tensions escalate in the region, all eyes are on the diplomatic efforts by key players like the United States, Iraq, Turkey, and regional actors in hopes of finding a sustainable solution to de-escalate the situation and bring about lasting peace.
"Pop culture advocate. Troublemaker. Friendly student. Proud problem solver."