The mass exodus of citizens from Albania and its disturbing consequences for the country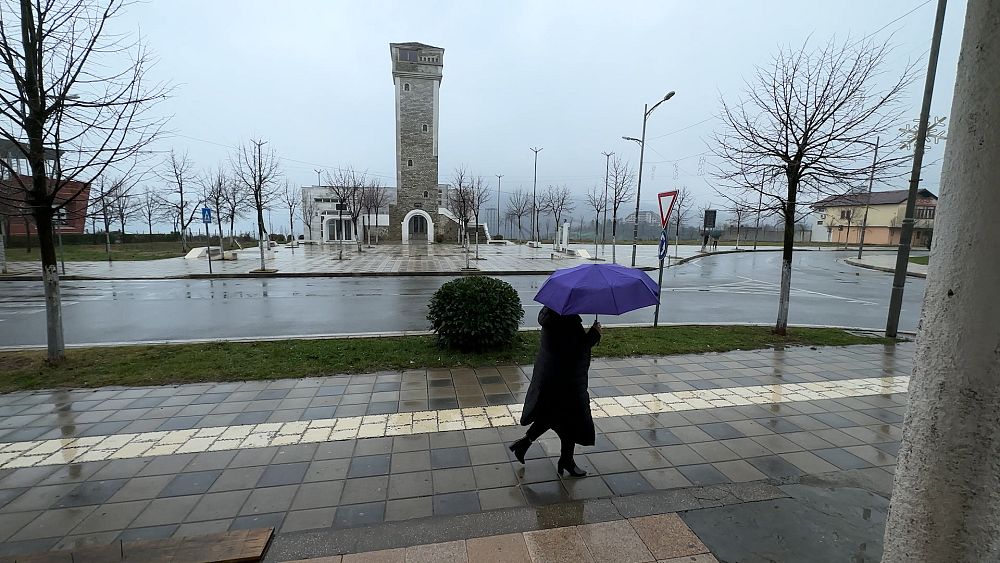 Albania has what is considered the third largest expatriate community in the world, after Bosnia and Herzegovina and Guyana. why? And what are the consequences? In search of answers, Euronews-WITNESS journalist Julián López Gómez traveled to Kukës, a small town in the north of the Balkan country, one of the regions hardest hit by the massive rate of migration.
Kukës has been classified by some as a "ghost town". Up to 40% of its population has emigrated since the fall of communism in 1991. Even those immigrants who have returned are willing to leave again.
Such is the case of Lol Nerguti, who left Albania at the age of 20, settled in the United Kingdom, and obtained a British passport. When her mother fell ill, she returned and invested in building materials. Your business is about to go bankrupt. He claims he hasn't received any orders in eight months.
"It's very difficult. I spent a lot of money to build all this. I'm sorry I'm back, yeah. I'm very upset. Sometimes I think of dropping everything and leaving. It doesn't matter where, just… says entrepreneur Lol Nerguti.
His story illustrates the difficulties facing the region, where 20% of the population lives below the poverty line. Many see emigration as the only possible way out. Less population means less business. Given the decline in the birth rate, which was recorded in the region, the future is not hopeful.
The younger ones leave. Thus, they leave an area where, today, practically only elderly people live. Many of them have several children far from home, in foreign countries. Migration continues and many entire families leave their country in search of a better life.
With fewer and fewer young taxpayers, many worry about the future of the country's Social Security, and their pensions.
"If the authorities do not support any school activity, in terms of logistics, educational materials, sports, creativity, art, music… young people will not feel comfortable in their environment, in their schools, in their homes. They are likely to try to find outside what they cannot find in our country," says Lavdrim Sheikho, a legal expert on immigration matters.
In the Cox City sheriff's office, the mayor flatly rejects the term "ghost town."
"We help young people who have worked for two, three or five years as immigrants in England, Germany or other places. We facilitate their return, exempting them from local taxes for one to three years. In addition, the government pays them," says Safet Gegeci, Mayor. Cocos City: "It's a subsidy of 5,000 euros in its first phase of installation."
The private sector is also making efforts to try to stem the bleeding of migrants. Employed in the textile trade in the region 90 women. Some have just returned from Germany or Italy, where they have not been able to find legal jobs, despite doing everything they can to get them.
"Our goal is to offer people work so that they stay here and do not have to emigrate. The project also interests some foreign companies with whom we are negotiating. Our goal is to open another factory like this," says Majlinda Dullaj, director of Miko Tekstil, "Maybe for men, maybe for making different products.
In Tirana, the country's capital, the economic and social situation is slightly better, but young people are also at a crossroads. Albania applied to join the European Union in 2009. Negotiations began only last year, and they promise to be long, feeding the impatience of young people yearning for closer ties with Europe.
Without progress, some students and activists say, young Albanians like themselves will continue to search in Europe for what they cannot find at home. Thus, they demand urgent changes in the political system, social morality and, above all, the educational system.
"If you want to destroy a country, destroy its education, because, basically, you are destroying its roots. What I expect from my government is that it invests in education, not only in higher education, in relation to the university, but from the beginning of the educational cycle," says Dragana Corti, a student International Relations.
Over the course of five years, the coach of a children's soccer team watched many boys leave the club after they went abroad with their parents.
"Young people are the oxygen of every country. Not only in sports, but in any field. Young people contribute to the success of any country. The migration issue here is very worrying. There are many things that require solutions, so that our young people can be like European youth" , concludes Arly Delchey, coach of the youth team at Albanet.
"Hardcore web nerd. Twitteraholic. Analyst. Reader. Coffee guru. Travel ninja. Amateur troublemaker. Zombie geek."