The great tech event in Miami, eMerge, is once again being held with a large presence of Spanish startups
Masks are becoming increasingly shy, although they persist in the memory of a past that wants to be forgotten. After two copies without stopping due to the epidemic, eMerge, the tech event in Miami, has reopened its doors At the Miami Beach Convention Center.
The city family's dream, with Manny, the patriarch, and Melissa, the creator of the next generation, continues its course. They want to turn Miami into the technology capital of the southern United States with a factor of differentiation, which is its unique ability to unite Latin America, the United States and Europe. Given the common cultural past, Spain is an essential part of this framework.
This is how ICEX and the High Commissioner for Entrepreneurship of Spain understood it by creating a mission to Accompany promising startups Spanish Panorama at eMerge. During the event, 22 startups participated in the sample and six of them participated in StartupShowcase.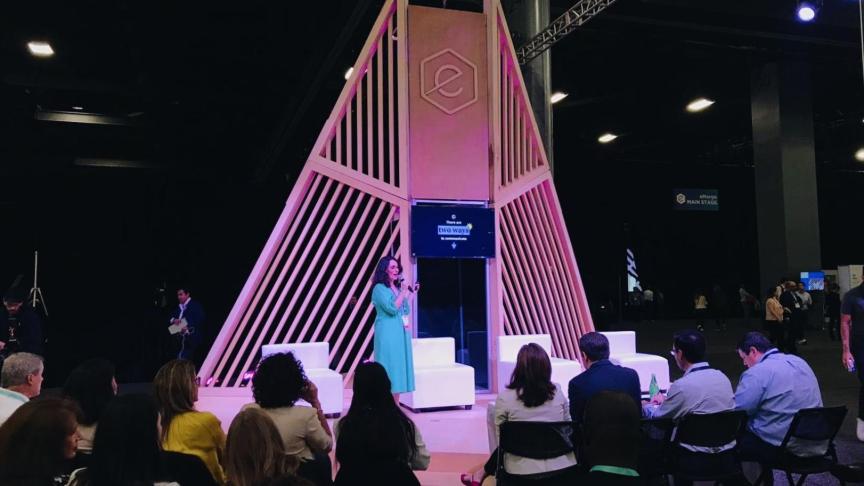 All day 19 and 20 April Spain had a pavilion of its own Where selected startups showcased their products: Clupik (Apps, Saas), HR Bot Factory (SaaS), EasyVirtualFair (Enterprise), Jaleo (Applications, Big Data, Analytics & AI), Qaleon Solution (Big Data, Analytics & AI) or Entrii (Big Data, Analytics, Artificial Intelligence, SaaS)
Additionally, Stayforlong (Traveltech), Climate Commerce (Blockchain, Green Tech, Sustainability) or Starshot Solutions (applications, e-commerce, SaaS), Ufounders (e-commerce), Filmarket Hub (Big Data, Analytics & AI, Content & Media) Live4Life (e-commerce), mlean (SaaS), Slang Digital (cloud, big data, analytics, and artificial intelligence).
Others like Streamion (big data, analytics, artificial intelligence, content and media) and Rentastic (e-commerce) complete the list. Genially (Marketing, Edtech), Imageryst (Big Data, analytics and Artificial Intelligence, SaaS), Traceable (Blockchain, SaaS), Training Experience (Blockchain, Enterprise), Iakan Health (Big Data, analytics and Artificial Intelligence, SaaS, ehealth) and WITO Smart Health (Big Data, Analytics, and Artificial Intelligence).
The case of Genially was especially relevant, since she already works in the United States, where her CEO and part of the team live, in addition, they had Outstanding participation in the competitionand remaining among the six finalists.
A space to present Spanish innovation
eMerge, which has a Over 16,000 attendees, It was constructed as a space to present Spanish innovation, as well as to attract companies that want to make an international leap and establish themselves in Spain.
Francisco Polo, High Commissioner, explains the reasons for promoting this initiative: "Going to an eMerge is very interesting because Spanish startups can show that the startup ecosystem in our country It represents an opportunity for American investors."
According to Polo, the 2021 data "show the good moment that investment in Spain is going." Thus, note that venture capital funds They left each other 4294 million euros, four times what it was in 2020, when it reached 1107 million euros, according to data from Investment trends in Spain from the Bankinter Foundation.
Along the same lines, he highlights three main measures of the Startup Law, which are still pending approval: "On the one hand, the law includes Pregnancy interestinga tool Strengthens legal certainty for funds and risk investment managers, and therefore easier to attract to Spain."
"On the other hand, the new startup law too Facilitates operations for foreign investors Because they will no longer be obligated to have a Foreign Identity Number (NIE), but a Tax Identification Number (NIF) that they can process online will suffice," he adds.
Finally, the new Startup Law improve incentives to working angle and founding partners of start-ups, raising the deduction from the current 30% to 50% in the investor's personal income tax to a maximum of the €100,000 deduction base, putting Spain on a par with the UK, the best country in Europe for Business angelsConcludes.
The trip ended with a meeting at the home of the Spanish Consul in Miami, a reception at Coral Gables It brought together different actors from the local entrepreneurship ecosystem And put an end to an international experience.
Follow the topics that interest you
 "Future teen idol. Hardcore twitter trailblazer. Infuriatingly humble travel evangelist."