"The economy recovered, schools worked, life returned"
He is the ambassador of Israel in Ecuador. He worked in the Israeli Ministry of Foreign Affairs and likewise in Sri Lanka, Jordan, Mexico, the United States and Paraguay.
The rate of COVID-19 vaccination set by Israel has left countries such as the United States, China, or many European Union countries lagging behind. The Israeli ambassador to Ecuador spoke to EXPRESO about how they had achieved this goal in less than four months and how they could help the new Guillermo Lasso government to speed up the immunization of Ecuadorians.
Israel provides millions of anti-virus vaccines by 2022
Read more
Israel recently allowed its citizens to remove their masks in the open, how was that possible amid the resurgence of COVID-19 cases worldwide?
We can say that we in Israel see the light at the end of the tunnel. It is the first country in the world to emerge from the COVID-19 pandemic, thanks to a very successful and effective vaccination process. Today 70% of the population is vaccinated and this allows for a return to normal life. Most of the economy has recovered, and schools, restaurants, and gyms are working as well. We are now with cultural and sporting events, although we are still limited capacity. This adds to the fact that, as I said, people can be masked outdoors. There are still instructions, but most of life is back to normal.
How were they able to start leading a normal life and control the increase in infection?
Without a doubt, the key is the grafting process. The numbers of infected people have decreased a lot and in recent days there have been almost no deaths due to COVID-19. I think the key is vaccination, and this has worked for a number of reasons: First, government action. The government has signed contracts with major pharmaceutical companies such as Pfizer and Moderna since the beginning of the epidemic, and thus Israel was one of the first countries to receive the vaccine, in December 2020. The vaccination process was also implemented. In Israel there is a highly organized and highly developed public health system; There is a system of medical centers spread across the country with highly specialized and professional medical staff.
How was the communication campaign so that people would not be afraid and vaccinated?
Israel has carried out a very important campaign in the media to educate people and encourage them to get vaccinated. The government provides a certificate of vaccination with which people can enter cultural events, hotels and restaurants. This encourages people and that is why we now have over 70% of the population vaccinated.
So they are running out as a kind of passport inside the country?
Yes exactly. If you do not present this passport, you cannot enter certain places, as we have seen that this encourages people to get vaccinated.
What role did citizen discipline play in Israel?
I must tell the truth and that they are not disciplined in Israel, but it must be noted that the majority of the population trusts the vaccine. The communication and education campaign was important.
Going back a little bit, how has your country been run since the start of the pandemic?
Israel is a small country and there is only one main entrance, so since the beginning of the epidemic the government has closed the entrance and imposed, as in most countries, a curfew. Despite that, we had two big waves and the second one was worse, but from there we got into the grafting process. Within three months, more than 70% of the population is vaccinated, allowing you to return to normal.
Now Israel is like a laboratory for the world.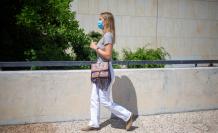 Israelis will be able to remove their masks from Sunday
Read more
With any logic?
Because we share results with pharmaceutical companies. In addition, we have an almost normal life and everyone can see that an effective grafting process is the key.
Did they calculate when they will finish vaccination?
Well, the part that has not yet been vaccinated is young people and children under 16 years old. We're talking to Pfizer and Moderna to start vaccinating youths between the ages of 12 and 16.
Economically, did the Israeli government provide any support during detention?
During the pandemic, many businesses closed, and there were many who were unemployed. The government subsidized and paid between 70 and 80% of the salaries of employees who lost their jobs and this continues. It still supports people who have not been able to return to their jobs. Businesses that were unable to operate during the pandemic crisis were also helped, but with the vaccination process, most of the economy has recovered. Israel still does not receive tourists or foreigners, but there is a plan so that organized groups of tourists who have been vaccinated with Pfizer and Moderna can enter Israel from June. We see that there are changes in India, the United Kingdom and Brazil and we don't want to lose the success that we have now. We want to receive the tourists, but with great caution.
Here we are talking about a dilemma between economic revitalization and health. Can you choose?
The two topics are interlinked: vaccination and economic recovery. The two topics go together. The sooner they get vaccinated, the faster the economy will recover.
A few days ago it was known that Israel would advise Uruguay to control the epidemic. Are you planning to do this with Ecuador?
The thing in Uruguay is work done by private entrepreneurs, but yes, there are doctors who went to Uruguay to help, we are a small country, but we are trying to help and I think we will do that also in Ecuador.
Have you had any affinity with the president-elect? He has a very ambitious goal of vaccinating 9 million Ecuadorians in the first 100 days …
Relations between Ecuador and Israel are deep and historic and I am sure that we will have excellent cooperation with the new government. The government is not in power, but we are determined to cooperate. I don't know if we can share Pfizer or Moderna vaccines, but Israel is developing a vaccine and I will do everything in my power to help the new government.
What do you advise Ecuador to be able to progress in vaccination and out of the crisis?
Make the vaccination process as quick as possible and open vaccination centers everywhere. You have to reach the entire population, that's the key.
 "Future teen idol. Hardcore twitter trailblazer. Infuriatingly humble travel evangelist."