The Daily Guardian: Syracuse Football Suffers Crushing Defeat Against North Carolina (Final Score and Recap)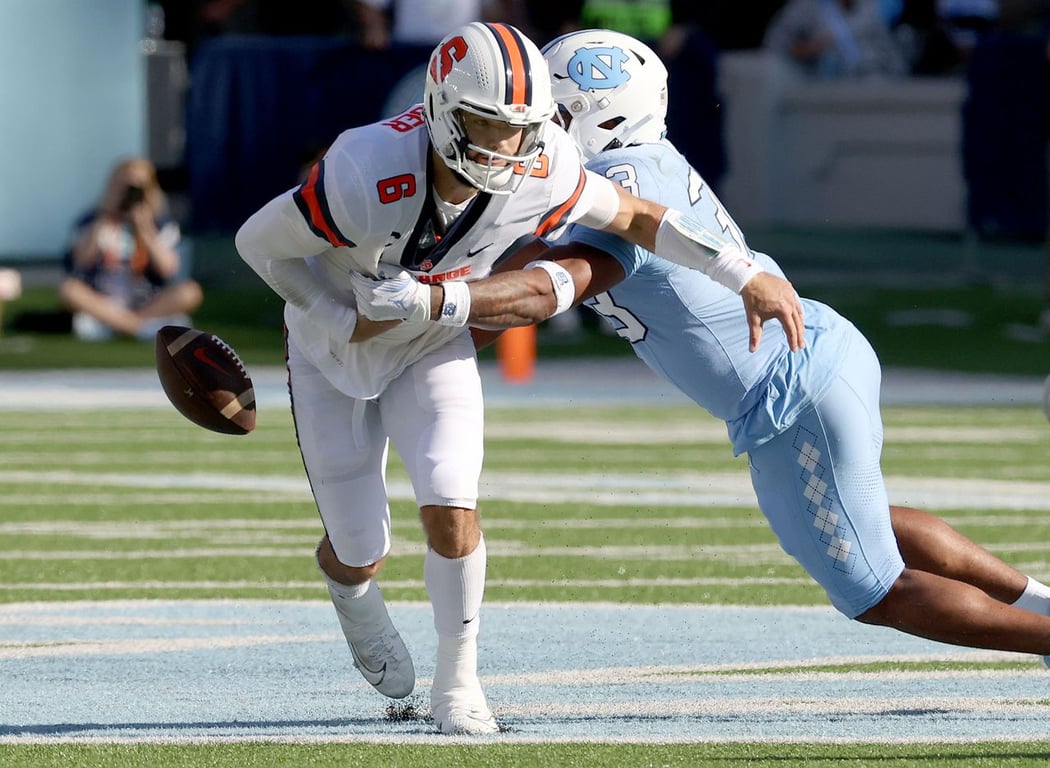 Syracuse Football Suffers Crushing Defeat and Deals with Key Injuries
In a devastating blow to Syracuse football, the team faced a heavy defeat at the hands of the No. 14 ranked North Carolina. The final score stood at an overwhelming 40-7, leaving Syracuse and their fans reeling from the loss.
Adding to their misfortunes, Syracuse dealt with a series of key injuries to their star players, including starters at the receiver position and along the offensive line. These injuries undoubtedly played a role in the team's struggle to mount a competitive offense against North Carolina.
From the beginning, the game quickly spiraled out of control for Syracuse. North Carolina, led by their talented future NFL quarterback Drake Maye, dominated the field, leaving Syracuse scrambling to keep up. In fact, Syracuse's starting rover/safety even played the game with a club on his left hand due to an injury, further hampering the team's defensive efforts.
A series of costly pre-snap penalties on crucial fourth and third downs only added to Syracuse's woes. These penalties not only cost valuable possessions but also allowed North Carolina to increase their lead and secure their decisive victory.
This loss marks the 12th time under coach Dino Babers that Syracuse has suffered a defeat by 30 or more points. The consistent struggle to compete against ranked teams raises questions about the current state of the program and its ability to bounce back from significant setbacks.
Looking ahead, Syracuse faces an uphill battle next week as they prepare to take on a Top-5 ranked team. This daunting challenge is followed by a crucial stretch of games against tough opponents such as Virginia Tech, Boston College, and Pittsburgh. The team will need to regroup quickly and find a way to perform at their best if they hope to turn their season around.
While Syracuse struggled to gain traction on the offensive side, North Carolina's Drake Maye had an impressive game, throwing for over 400 yards and three touchdowns. The Syracuse defense found themselves unable to contain North Carolina's offense, surrendering multiple big plays and touchdowns throughout the game.
In addition to offensive struggles, Syracuse also failed to convert on important third-down situations and encountered difficulties in sustaining drives. These setbacks contributed to the team's overall disappointing performance, leaving their fans questioning the team's potential for future success.
As Syracuse football deals with the aftermath of this crushing defeat and grapples with key injuries, the program faces a pivotal moment in its trajectory. The upcoming games against formidable opponents will undoubtedly test the team's resilience and ability to come together. Only time will tell if Syracuse can rise above their recent struggles and regain their competitive edge.
"Infuriatingly humble writer. Creator. Beer trailblazer. Internet lover. Hardcore communicator."