Stanline Hospital Rollout Frontline Doctors Protest Botched Vaccine After Apology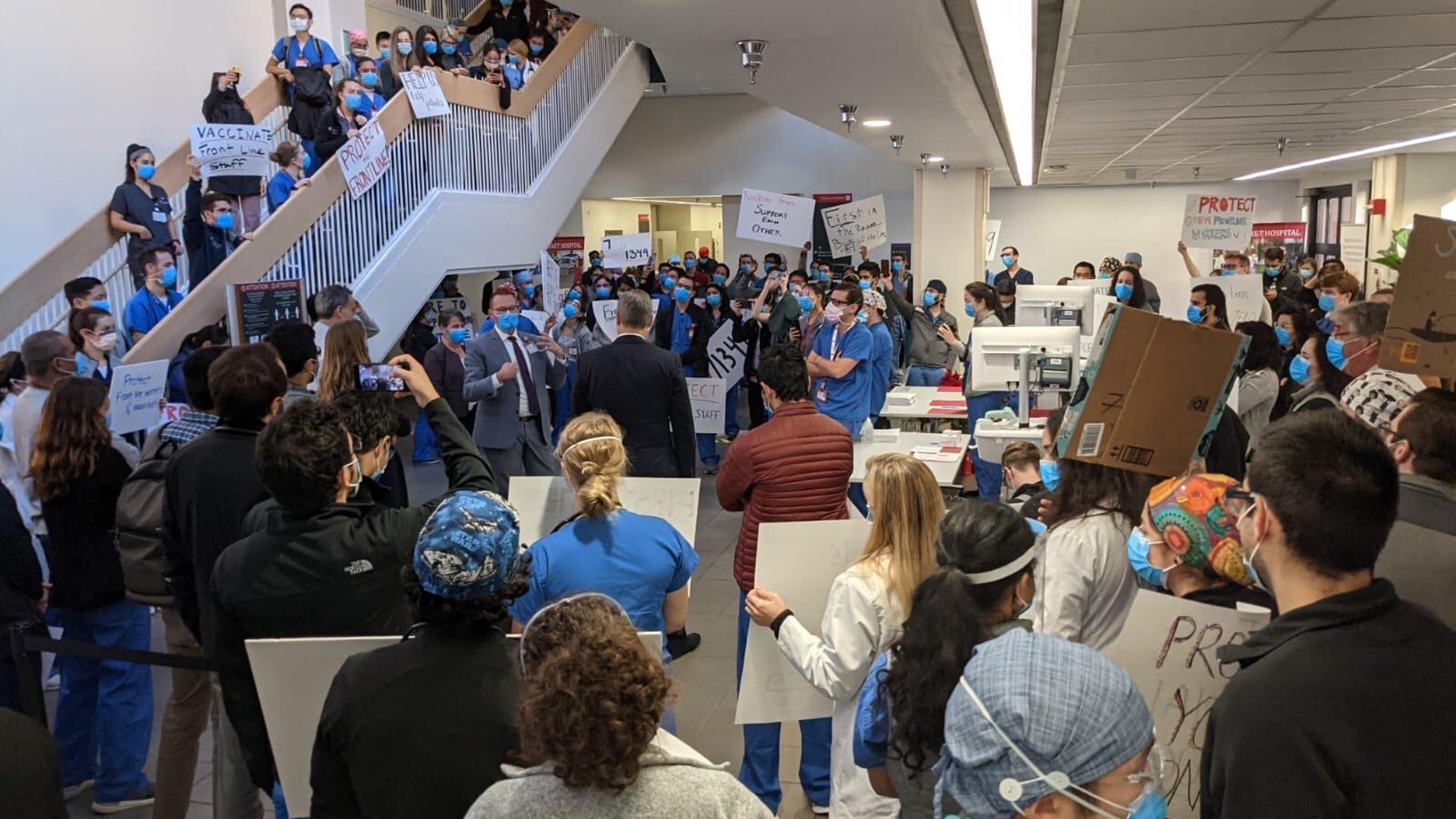 Authorities on this Stanford University Medical Center apologized on Friday by residents and other health care workers after border workers were tugged from behind the line COVID-19 Vaccination.
The first wave of 5,000 vaccinations was to leave all but seven more fellows from Palo Alto Hospital, many of whom routinely treat COVID-19 patients.
"In the first room!" Behind the line! The protesters shouted slogans. "Health care hero, support is nil," read a sign.
He accused the hospital of prioritizing vaccinations for senior staff and faculty physicians working from home or in the specialty, likely to interact with patients suffering from COVID-19.
In a letter to hospital officials on Thursday, residents complained: "Many of us know senior faculty, who have worked from home since the epidemic began in March 2020, with no individual responsibilities, including vaccinations. Was chosen for. Meanwhile, we Residents and colleagues strap on the N95 mask for the tenth month This epidemic without a transparent and clear plan for our safety in place. "
Residents are physicians who have terminated medical schools and staff hospitals during training for a specialty.
He said, "We came here after knowing that Only seven out of 1,349 The residents were selected for the first wave of vaccination, "Dr. Charles Marcus, a protester third-year resident, explained to NBC News.
"We are here because we were promised, many times, that we would be Vaccinated in first wave, "Emergency room resident Dr. Daniel Hernández told the San Francisco Chronicle.
When David Entwistle, President and CEO of Stanford Health, appeared to make the announcement, the protest calmed down: "We got it wrong. Let's get you vaccinated. We will correct this. "
Earlier this week, the hospital first promised to vaccinate health care workers who "Providing direct care and service to patients … are at the highest risk of exposure to COVID-19 and increased risk of complications from the disease. "
but Prof. Publica reported Instead, the hospital used a faulty algorithm to vaccinate the first 5,000 workers. The source failed to include residents who were not assigned to specific locations in the hospital. This cuts out residents who rank low in the hierarchy, but who usually have close contact with patients.
This confrontation is a sign of more confrontation for visiting hospitals and elsewhere as people are mistakenly or unfairly given priority for vaccination across the country.
All HuffPosts are calling Superfans!
Sign up to become a founding member for membership and help shape the next chapter of HuffPost
"Wannabe troublemaker. Pop culture fanatic. Zombie nerd. Lifelong bacon advocate. Alcohol enthusiast. Tv junkie."