Sabritas' new collaboration with Shakira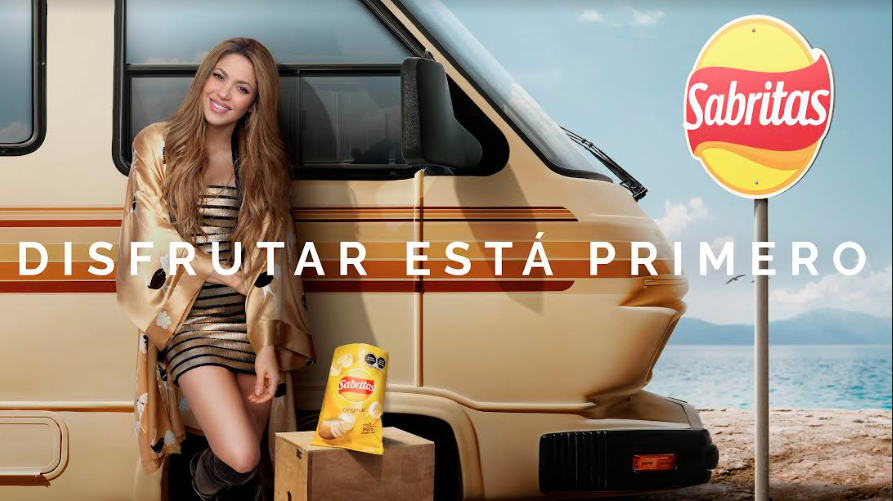 "Fun First" is the name of the new Sabritas campaign, in collaboration with Shakira.

Authentic Sabritas potatoes are the most consumed snack in Mexico according to a study by LabDo.

Sabritas was founded in 1943 by Pedro Marcos Noriega as a confectionery and product brand Set in Mexico City.
Sabritas®, the most important snack brand in Mexico, created this concept "Enjoyment comes first" To promote because people find – every day – a space for inspiration and a moment to enjoy the little details.
Sabritas was founded in 1943 by Pedro Marcos Noriega as a confectionery and product brand Selectos in Mexico City, where this producer had the brilliant idea of ​​making french fries from real potatoes and turning them into delicious, salt-ready patanas to enjoy any time of the day. In 1966 Frito-Lay and Pepsi-Cola merged to form PepsiCo with the potato brand being acquired by both industries.
Created in conjunction with the Isla Agency, whose ambassador, Shakira, is a world-class artist, the new campaign invites people to find those moments of small pleasure in everyday life in which tedious tasks and commitments related to work and family take up a significant chunk of time.
"We are very excited about this collaboration to present the #EnjoyThisFirst campaign with a world-famous artist like Shakira. This campaign makes us proud and we developed it to give Mexicans a positive message that they feel as much as we do," said Clara Contreras, Director of Sabritas and Potato Business Unit of PepsiCo Alimentos México.
The campaign kicks off in June with the release of "The Great Escape," a fun and dynamic commercial where Shakira, through slick action scenes, demonstrates the importance of seeking out and enjoying unexpected moments, which are even better in the company of some sabers. ® potatoes. And so, in the best of Hollywood style, the star is sending a message about how important it is to find moments to enjoy.
The venue was in charge of Rebolución and directed by Armando Bo with Roi Ricci. With a background soundtrack as well, "Somehow" with the original Blondie band, which talks about letting go of your troubles and ending life, as Sabritas do, with a bit of humor. Ariel Sirkin of Isla Agency commented, "This is our third year in business for the brand, but this time around, we've created an unexpected piece that reveals something as basic as it is essential, which is having fun."
In Shakira's words: "I like the slogan of the campaign, fun comes first – you have to focus on enjoying yourself despite the obstacles and problems". In addition, the singer described the campaign as a "new adventure" and is happy to collaborate with a brand that seeks to connect with people through the spirit of enjoyment, because "life is too short."
When we started thinking about this campaign, we looked for a good connection between Shakira and what the brand wanted her to say, and discovered that the least she enjoys is downtime. From there, we wrote a story in which Sabritas® fries turned the waiting period between taking a video and taking it into an opportunity To enjoy, not just a quiet moment, away from obligations, but the escape itself." said Julien Tachilla and Celeste Dalairac, the creators behind the campaign.
Sabritas® has the distinction of including great national and international personalities in its campaigns, such as Carlos Rivera, Enrique Iglesias, William Levy and Ryan Reynolds, who will now be joined by the Colombian interpreter of many international celebrities.
The venue below is part of a fantastic repositioning campaign that will be launched across Mexico and key countries in the region, and with that Sabritas® invites us to take a breath and a minute of our time because #EnjoyIsFirst.
Read now
"Pop culture advocate. Troublemaker. Friendly student. Proud problem solver."