Russia Claims to Have Shot Down Ukrainian Missiles near Vital Crimea Bridge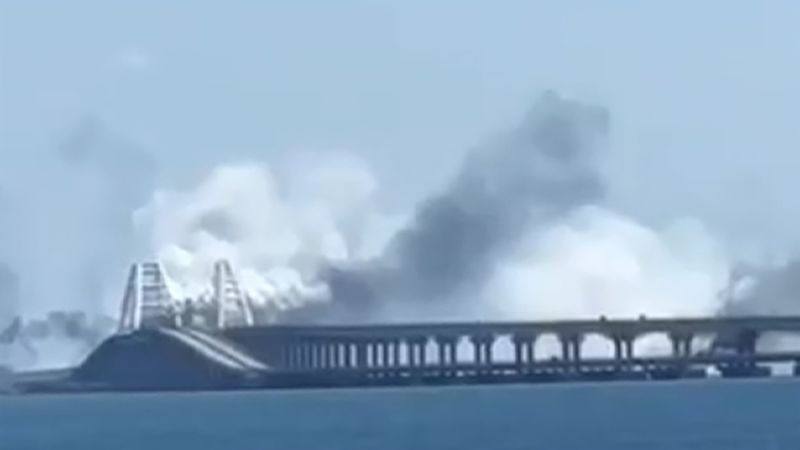 Title: "Ukraine's Failed Missile Attack on Crimean Bridge Rekindles Tensions with Russia"
Crimea, a territory that has remained a contentious issue between Ukraine and Russia, witnessed yet another skirmish over the weekend. Multiple missiles were shot down on Saturday near the Crimean bridge, a symbol of Russian occupation and a pet project of President Vladimir Putin. Although two Ukrainian missiles were intercepted, the bridge remained unscathed.
Images and videos circulating on social media depicted billowing white smoke from the bridge, but their authenticity is yet to be verified. In a subsequent report, it was revealed that another Ukrainian missile was thwarted in the vicinity. Meanwhile, Russia's defense ministry declared that they had successfully neutralized 20 Ukrainian drones aimed at the peninsula, calling the attack a "terrorist act" and condemning it as barbaric.
After a temporary suspension, traffic on the Crimean bridge has resumed. The bridge holds immense strategic significance for Russia, serving as a vital supply route for their ongoing conflict with Ukraine. It enables the transportation of essential goods and people into the occupied Ukrainian territories.
For Putin, the bridge holds personal value as it symbolizes what his government terms the "reunification" of Crimea with the Russian mainland. It has previously been targeted, with one instance resulting in a partial destruction caused by an explosion that the Kremlin swiftly blamed on Kyiv. Ukrainian security services have claimed responsibility for previous assaults on the bridge, illustrating their determination to reclaim control over the disputed region.
Commenting on these incidents, the head of the Ukrainian Security Service justified the attacks as necessary steps to force Russia out of Ukrainian territorial waters and land. Ukrainian officials view these strikes on Russian ships or the bridge as a logical and impactful method of exerting pressure on their eastern neighbor.
The tensions between Russia and Ukraine have deep roots, with Crimea remaining a highly sensitive issue. As this recent missile confrontation demonstrates, both sides continue to engage in acts of aggression, further fueling the existing conflict and exacerbating hostilities. The situation surrounding Crimea remains fluid, and the international community closely watches for any signs of escalation or attempts at resolution.