Over 100 Russian Doctors Call on Putin to Release Imprisoned Woman for Price Tag Anti-War Protest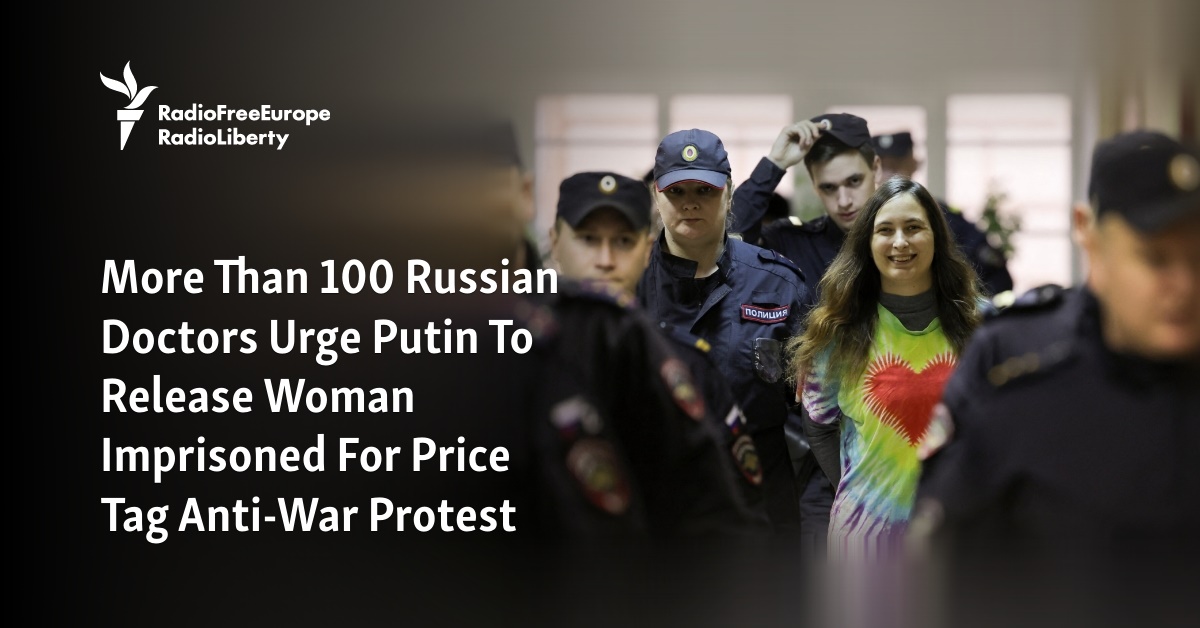 Title: "Russian Doctors Call for Release of Artist Imprisoned for Speaking Out Against Ukraine Invasion"
In a bold move, over 100 Russian doctors have united in an open letter, appealing directly to President Vladimir Putin for the release of artist Aleksandra Skochilenko. Skochilenko was recently sentenced to a staggering seven years in prison for distributing information about Russia's invasion of Ukraine using price tags in a supermarket.
The doctors, expressing deep concerns for Skochilenko's well-being, insisted that her actions did not violate any Russian laws. The court ruling, met with widespread dissatisfaction, has attracted protests and outcry from journalists and supporters alike who chanted "Shame!" in response to what they perceive as an unjust decision.
Support for Skochilenko extended beyond the courtroom, with several municipal lawmakers and renowned director Aleksandr Sokurov attending her trial to show solidarity. Opposition lawmaker Boris Vishnevsky criticized the ruling, vehemently stating that it lacked both justice and humanism.
Adding a further layer to the artist's plea for clemency are her medical conditions, including a congenital heart defect, bipolar disorder, and post-traumatic stress disorder. Skochilenko's health concerns highlight a crucial aspect often overlooked in these cases and amplify the urgency of her release.
It is worth noting that the Russian government had implemented a law that permits severe prison sentences for individuals found guilty of spreading false information regarding military operations in the wake of the Ukraine invasion. Article 207.3 of this law seeks to stifle opposition and control the narrative regarding the conflict, prompting concerns about freedom of expression within the country.
The open letter from the doctors sheds light on the growing opposition faced by the Kremlin's crackdown on dissenting voices. It highlights the divisive impact of legislation, such as Article 207.3, which has been used to silence critics and suppress the truth.
As the international community keeps a close eye on the situation, the fate of Aleksandra Skochilenko remains uncertain. The outcry from doctors, lawmakers, and artists against her imprisonment only intensifies, emphasizing the need for urgent action to rectify what many believe to be a grave infringement upon freedom of speech and human rights.
As the pressure steadily mounts, the question remains: will the Russian government take heed of the doctors' plea and revisit the ruling against Skochilenko, or will it persist in silencing dissent and controlling the narrative surrounding the invasion of Ukraine? Only time will tell. Stay tuned for further developments on this crucial matter.