Ohio St., Georgia, Michigan, Florida St. Lead the CFP Rankings – The Daily Guardian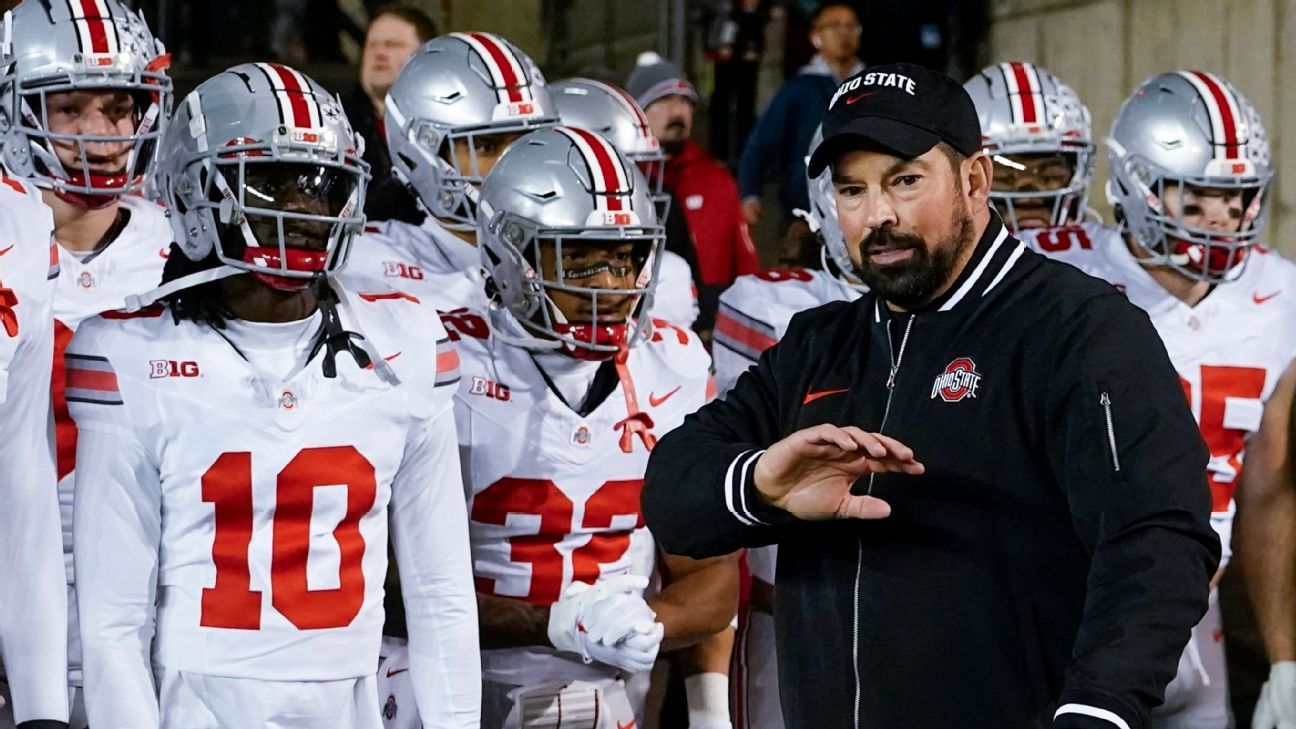 Ohio State Claims Top Spot in College Football Playoff Rankings
In a long-awaited announcement, the College Football Playoff committee has revealed the first rankings for the 2023 season. Securing the coveted number one spot is Ohio State, with Georgia trailing closely behind in second place. However, the rankings come with their fair share of controversy and intrigue.
Michigan, a team under scrutiny and currently under NCAA investigation for sign-stealing allegations, surprisingly sits at third place. This development raises eyebrows among college football enthusiasts, who question the fairness of their high ranking given the ongoing investigation.
Rounding out the top four are Florida State and Washington, two teams that have faced their fair share of struggles in recent weeks. Despite their setbacks, they managed to secure spots in the top tier due to their overall performances and strength of schedule.
One notable team in the rankings is Oregon, the top-ranked one-loss team, sitting at a respectable sixth place. The Ducks have managed to impress the committee, despite their defeat, with a strong display throughout the season. Just below them is Texas, followed by perennial powerhouse Alabama, a team that is unusually ranked at eighth place.
One of the key factors that played a significant role in the rankings is strength of schedule. Ohio State's impressive wins against Notre Dame and Penn State catapulted them to the top spot. In contrast, Georgia's lack of top-25 victories and weaker strength of schedule saw them fall behind the Buckeyes.
Michigan's strength of schedule, surprisingly, ranks even lower than Georgia's, further adding to the controversy surrounding their high placing. However, as the season progresses, both Georgia and Michigan will face tougher opponents, and their performances in these upcoming matchups may impact their rankings.
A highly anticipated game on the horizon is the rivalry matchup between Ohio State and Michigan, a clash that could have significant implications for the playoff race. With so much at stake, both teams will be eager to leave a lasting impression on the committee and secure their spot in the playoff picture.
Turning our attention to the undefeated teams, Air Force and Tulane find themselves within the rankings. Despite suffering a loss, Tulane sits just ahead of Air Force. This decision by the committee underscores their emphasis on overall performance rather than a single blemish on a team's record.
It is important to note that the committee remains committed to getting the rankings right and being comfortable with their decisions. The lack of ranked teams in the ACC has not affected their evaluation of Florida State, as they consider the team's overall performance and strength of schedule.
As the season continues to unfold, college football fans eagerly await the next set of rankings, anticipating potential upsets and surprises that could reshape the playoff landscape. With every game carrying playoff implications, the stakes have never been higher for these teams.
"Evil communicator. Hipster-friendly organizer. Typical thinker. Infuriatingly humble writer."