Nicaragua authorities detain an opposition presidential candidate and summon another to testify before the Public Prosecutor's Office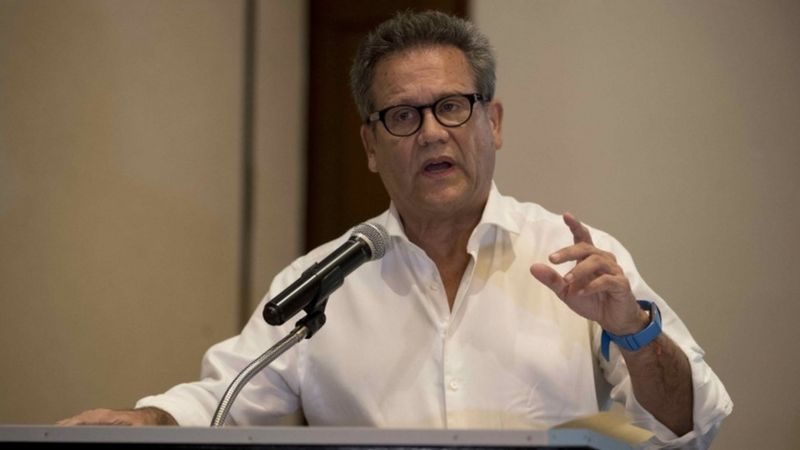 Opposition leaders to Daniel Ortega faced increasing difficulties with justice in that country this week.
On Saturday morning, the authorities arrested the opposition presidential candidate, Arturo Cruz, and hours later summoned his colleague, the opposition candidate, Felix Maradiaga, to testify before the Public Prosecutor's Office.
Cruz was arrested on arrival from the United States at Augusto Sandino International Airport in Managua "for there are strong indications that He attacked Nicaraguan society and people's rightsAccording to a statement by the Public Prosecution.
Maradiaga stated that he was summoned to appear before the prosecution next Monday, June 7, at 11 am, but the reason was not explained.
"The citation did not specify any criminal cause or the situation in which I am being cited, which Reaffirms arbitrariness and legal exclusion to which Nicaraguans are exposed," Maradiaga told the press.
The legal action comes after last Wednesday, when police raided the house and placed opposition presidential candidate Christiana Chamorro Barrios under house arrest.
Chamorro Barrios is the daughter of former Nicaraguan President Violetta Barrios de Chamorro, and was charged by the Public Prosecution Office on Tuesday with crimes of arbitrary administration and ideological error, in a real competition with the laundering of money, property and assets, for her role at the helm of the prestigious institution that bears the name of the former president.
In addition, Maradiaga and Juan Sebastian Chamorro, Christiana's cousin and opposition candidate, denounced last Tuesday The police had imposed on them the arrangement of the "prison house".
Of the seven remaining opponents aspiring to the Nicaraguan presidency, at least five reported being victims of harassment by the national police, according to EFE.
International Warnings
President Daniel Ortega, who has ruled Nicaragua since 2007, is expected to seek to remain in office in the November 7 presidential election.
However, NGOs and the International Crisis Group as well as international organizations such as the United Nations have warned of the dangers of this Elections that do not meet international standards This ends up exacerbating the political crisis in that country.
"We are deeply concerned that Nicaragua's chances of holding free and credible elections on 7 November are dwindling as a result of the measures taken by the authorities against political parties, candidates and independent journalists, which further restrict civic and democratic space," warned, on May 28, the Office of United Nations High Commissioner for Human Rights.
For its part, the International Crisis Group, in a report published on May 20, expressed concern that "Ortega obstructs the opposition's participation It interferes with the results, undermines the legitimacy of the elections and increases discontent."
You can now receive notifications from BBC Mundo. Download and activate the new version of our app so you don't miss our best content.
 "Future teen idol. Hardcore twitter trailblazer. Infuriatingly humble travel evangelist."