Israels Airstrikes on Gaza Escalate Amid Putins Warning on Conflict Expansion – The Daily Guardian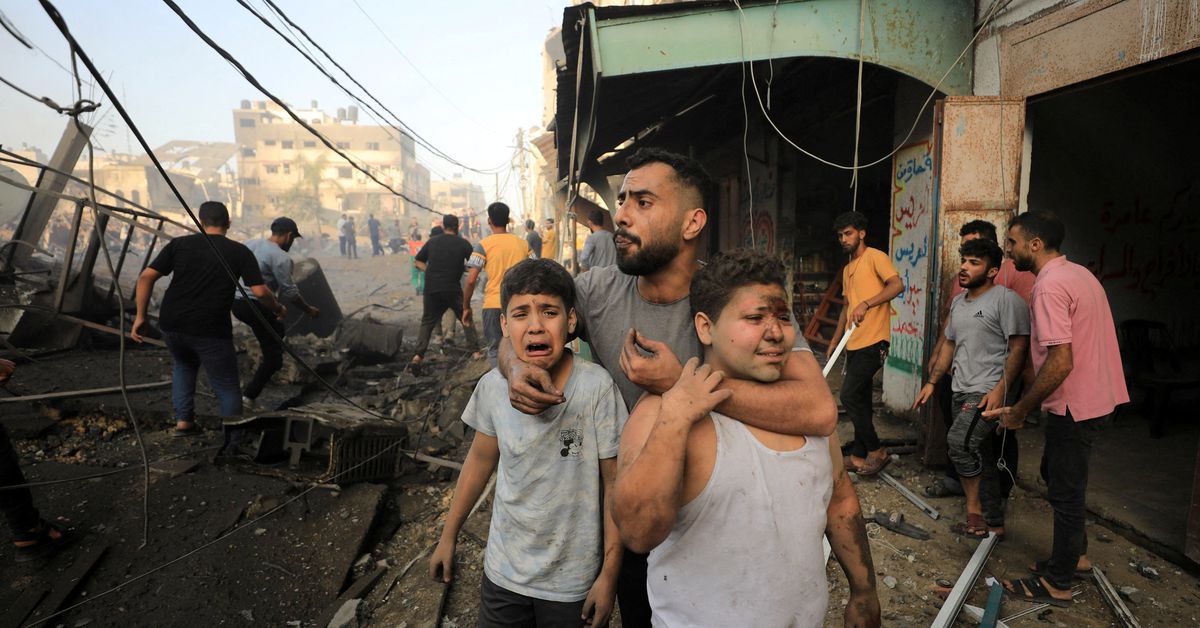 Title: Israel Launches Intense Assault on Gaza while International Concerns Mount
Israel has launched an intensive bombardment of the Gaza Strip, maintaining the threat of a ground invasion as tensions rise in the Middle East. The conflict shows no signs of subsiding, prompting Russia to warn of potential spillover effects, while humanitarian aid delivery remains blocked, leaving the Gaza Strip on the brink of a crisis.
As the violence escalates, Palestinians in Gaza face critical shortages of humanitarian supplies as aid remains inaccessible. Desperate measures have been taken, with unidentified dead being buried in mass graves. Israel's largest incursion into Gaza since the beginning of the war has left the region reeling from the escalating violence.
U.S. President Joe Biden has emphasized the need for peaceful coexistence between Israel and Palestine, recognizing the urgency of finding a solution. Furthermore, President Biden suggested that the recent attack by Hamas on southern Israel was aimed at disrupting the normalization of relations between Israel and Saudi Arabia.
Meanwhile, Russian President Vladimir Putin has called for an end to the violence, warning of dangerous consequences if the crisis continues to escalate. Israel, responding to international pressure and the presence of American forces, has delayed any invasion until U.S. air defense systems can be deployed to protect their troops on the ground.
Concerns have been raised by U.S. officials about potential attacks on American forces in the Middle East by Iranian proxies if Israel were to launch an incursion into Gaza. In a retaliatory move, Israeli airstrikes targeted Syrian army infrastructure in response to rockets fired from Syria.
Iran, a key supporter of Hamas, has warned Israel to halt its onslaught on Gaza, intensifying the tension between the two countries. Despite international efforts to bring about humanitarian pauses in hostilities, Russia and China vetoed a U.S.-drafted Security Council resolution, while their rival proposal for a wider ceasefire also failed to secure enough votes.
The mounting death toll has forced Palestinians in Gaza to resort to burying unidentified bodies in mass graves. According to the health ministry in Gaza, Israeli retaliatory strikes have reportedly killed over 6,500 people. In response, Israel has vowed to wipe out Hamas, amassing troops and tanks along the border with Gaza.
Pressure from the international community to delay any invasion of Gaza has intensified due to the presence of hostages held by Hamas. The urgency to de-escalate the situation has become paramount, with fears that further violence could have devastating consequences.
As the conflict intensifies, the world watches anxiously, hoping for a peaceful resolution to the crisis that continues to grip the Middle East.
"Wannabe troublemaker. Pop culture fanatic. Zombie nerd. Lifelong bacon advocate. Alcohol enthusiast. Tv junkie."