Introducing the Samsung Galaxy Tab S9: The Ultimate Tablet for Movie Enthusiasts, at a Premium Price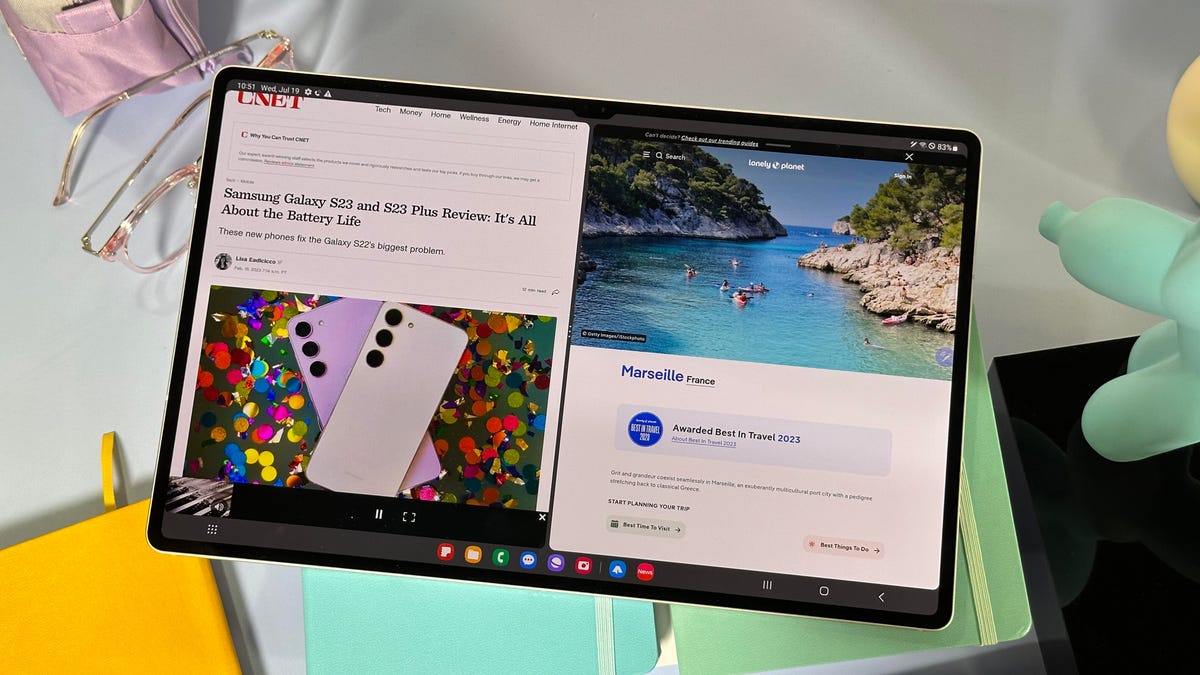 Samsung Unveils Galaxy Tab S9 Series: The Next Generation of Android Tablets
In a highly anticipated event, Samsung showcased its latest Android tablets, the Galaxy Tab S9 series, at the Galaxy Unpacked event held on Wednesday. The series, consisting of three models, aims to provide an immersive and seamless tablet experience for consumers.
The new Galaxy Tab S9 series includes an entry-level model at 11 inches, a Plus model at 12.4 inches, and an Ultra model at a whopping 14.6 inches. With these various options, Samsung aims to cater to different user preferences and needs. These tablets are set to compete head-on with other popular Android tablets, such as the Google Pixel Tablet, OnePlus Pad, and Lenovo's Tab Extreme.
One of the standout features of the new tablets is the inclusion of AMOLED displays. These displays not only offer vibrant visuals but also boast a dynamic refresh rate that can switch between 60Hz and 120Hz, ensuring smooth and fluid screen transitions. This feature makes the tablets ideal for movie lovers and those who prioritize a visually-rich experience.
To enhance productivity and creativity, Samsung has equipped the tablets with its renowned S Pen stylus. The S Pen can be magnetically attached to the back of the tablet for charging, ensuring that it is always conveniently accessible when needed.
Design-wise, the Galaxy Tab S9 series showcases a sleek and minimalist aesthetic, featuring clean lines and aluminum frames reminiscent of the popular iPad. The tablets are also dust and water-resistant with an impressive IP68 rating. Moreover, they feature durable aluminum bodies and Gorilla Glass 5 on the front, making them sturdy and reliable in daily usage scenarios.
Under the hood, the tablets are powered by Qualcomm Snapdragon 8 Gen 2 processors, guaranteeing faster and smoother performance. Users will have the flexibility to choose from various RAM and storage options to suit their needs.
Samsung strives to provide additional value to its customers. With the Galaxy Tab S9 series, users can enjoy smooth drag-and-drop compatibility with Galaxy phones and laptops. The tablets also come with a laptop-like multitasking mode called DeX, which enhances productivity in a desktop-like setting. Moreover, users can opt for keyboard cases that easily snap into the magnetic connector pins on the tablets.
Considering their impressive features and capabilities, the pricing for the Tab S9 series ranges from $800 for the entry-level model to $1,200 for the Ultra model. While these tablets may be relatively expensive compared to other Android tablets available in the market, Samsung offers discounts and deals on accessories, making the overall package more appealing.
Interestingly, industry experts view the Galaxy Tab S9 series as a glimpse into the future of tablets, with some considering them a preview of the upcoming Apple iPad Pros featuring OLED support. Samsung's innovation and cutting-edge technology in this line of tablets certainly set the bar high for its competitors.
In conclusion, the Galaxy Tab S9 series serves as a testament to Samsung's commitment to delivering groundbreaking Android tablets. With a combination of immersive features, powerful performance, and a sleek design, these tablets are poised to revolutionize the tablet market and provide an elevated user experience.
 "Future teen idol. Hardcore twitter trailblazer. Infuriatingly humble travel evangelist."