Introducing the Latest COVID Shots: Part of a Trio of Vaccines to Prevent Fall Viruses – The Daily Guardian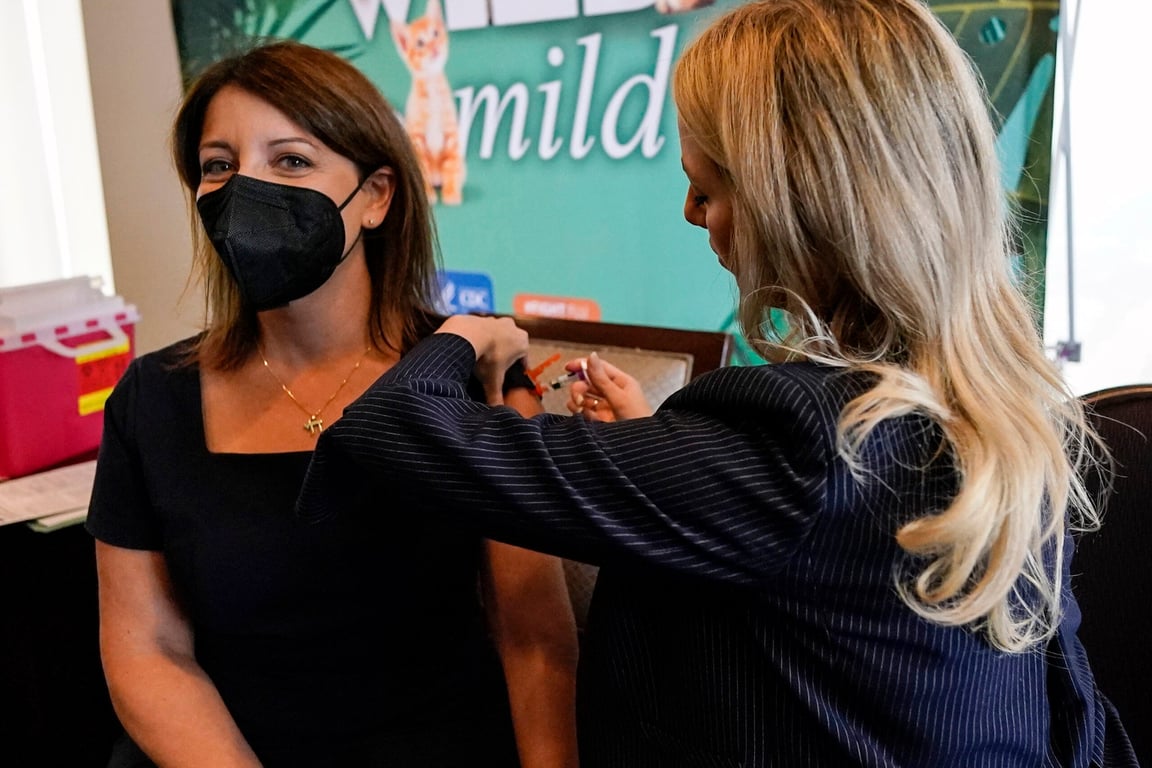 Title: "New COVID-19 Vaccines Target Variants, Alongside Flu Shots and RSV Vaccines, to Prevent 'Tripledemic'"
Subtitle: Pfizer's Updated COVID-19 Vaccines Authorized for All Ages, RSV Cases Rising in Southeast
In an effort to prevent another devastating "tripledemic" like last year, health officials are working towards developing and distributing updated COVID-19 vaccines, alongside flu shots and vaccines for RSV (respiratory syncytial virus). The goal is to protect the population from a simultaneous flu season, RSV outbreak, and COVID-19 surge.
While COVID-19 hospitalizations have been on the rise, the increase is not as severe as last year. However, there has been a noticeable rise in RSV cases in parts of the Southeast. To address these concerning trends, pharmaceutical giants Pfizer, Moderna, and Novavax have successfully developed updated vaccines to specifically target the emerging variant called XBB.1.5.
Pfizer has already obtained authorization from European regulators for its updated COVID-19 vaccine, making it available for adults and children as young as 6 months. The updated vaccines are expected to provide crossover protection against various coronavirus variants, giving health officials a reason to be optimistic.
The Centers for Disease Control and Prevention (CDC) advises that individuals aged 6 months and older should receive a flu shot, ideally by the end of October. Certain groups of people, such as young children, older adults, and those with weakened immune systems, are particularly vulnerable to both the flu and RSV. The CDC recommends three specific flu shots for seniors, as they have shown to be more effective for this age group.
Importantly, the CDC clarifies that there is no difference in effectiveness or side effects if individuals receive both the flu and COVID-19 vaccines simultaneously. This reassures those who may have concerns about receiving multiple vaccinations.
RSV, a common winter illness, can be especially dangerous for young children, older adults, and those with underlying health conditions. While two RSV vaccines are approved for adults over 60, the CDC advises seniors to consult their doctors about receiving the one-dose shot. Pfizer's RSV vaccine is authorized to be administered later in pregnancy, providing protection to newborns. The CDC is expected to release detailed recommendations on its use soon.
For added protection against RSV, laboratory-made antibodies are available as an injection. Not classified as a vaccine, these antibodies aim to shield babies from the virus. Additionally, the FDA recently approved Beyfortus, a one-dose drug developed by Sanofi and AstraZeneca, for infants under 8 months, to be given before their first RSV season.
With hopes of curbing the impact of a potential 'triple pandemic,' the ongoing development and authorization of updated COVID-19 vaccines, coupled with proactive administration of flu shots and RSV vaccines, aim to safeguard communities and prevent the catastrophic simultaneous outbreaks witnessed last year.
"Evil communicator. Hipster-friendly organizer. Typical thinker. Infuriatingly humble writer."