Controversial Oil and Gas Field in the North Sea Gets Approval in Britain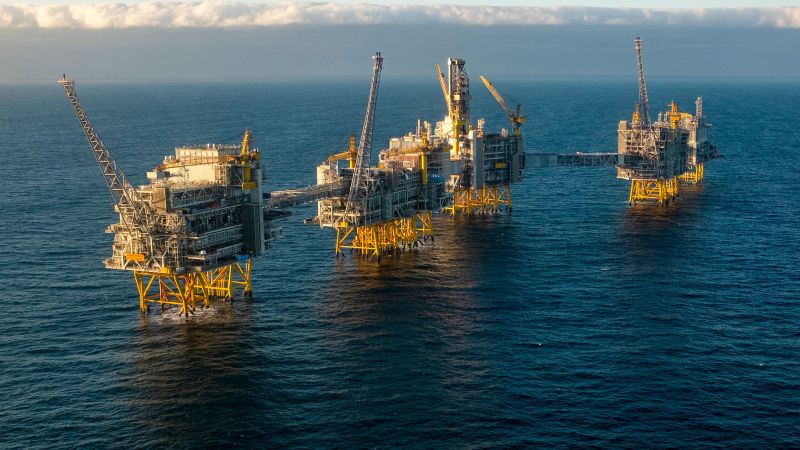 Title: "Controversial Approval of Rosebank Field Development Raises Concerns Over UK's Climate Commitments"
In a move that has drawn both praise and criticism, the British government has granted its approval for the development of the Rosebank oil and gas field. Situated northwest of Shetland in Scotland, the Rosebank field is hailed as the largest untapped reserve in the North Sea.
Majority-owned by the Norwegian state-owned energy company Equinor, the project is anticipated to yield a whopping 500 million barrels of oil, further intensifying the debate surrounding its potential environmental impact. Critics argue that this approval contradicts the UK's objective of achieving net-zero carbon emissions by 2050.
Those skeptical of the project claim that most of the UK's oil is exported, rendering the proposed benefits of energy security and lower bills void. These concerns are not unfounded, as climate groups caution that continuing to exploit new fossil fuel reserves directly contradicts the nation's climate commitments.
The International Energy Agency adds its voice to these concerns, stating that no new oil and gas fields should be developed if the world wishes to limit global warming to 1.5 degrees Celsius. Apprehensively, experts assert that the approval of the Rosebank field may push the UK beyond its climate targets as early as 2028.
Despite mounting criticism, UK Prime Minister Rishi Sunak remains steadfast in supporting the project. Sunak touts the importance of energy security and lower bills, dismissing concerns that Rosebank will not effectively address these issues as a result of oil exports.
Likewise, the UK's minister for energy security and net-zero defends the project, highlighting its potential to create jobs and lessen reliance on oil and gas imports. Additionally, proponents argue that the development of the Rosebank field aligns with the nation's aim to reduce dependence on foreign energy sources.
However, the approval of the Rosebank field comes on the heels of the government's announcement of a delay in critical climate commitments. This recent development has further fueled concerns about the UK's ability to fulfill its ambitious target of achieving net-zero emissions.
With a decision that carries vast implications for the nation's climate agenda, the approval of the Rosebank field development has ignited a contentious debate. As the project moves forward, environmentalists, industry experts, and policymakers will undoubtedly continue to clash over the divergent stakes at hand.