Bitcoin: More Expensive but Simpler: The Silent Take-Out of Cryptocurrency Exchange | Economie
Gaetano Domínguez claims to have killed dead hours by reading about cryptocurrencies. He explains that you never know when a potential client might arrive full of questions to solve, and you have to be prepared. If you look at the door of the BitBase store on the Calle de Princesa in Madrid, you can see that you are not lying. Inside, the 25-year-old Venezuelan's gaze was focused on a laptop screen surrounded by paintings script T-shirts with slogans encouraging you to buy bitcoins and books about it. Is it trade Completing the basic business, it is an ATM where anyone with a few bills or a credit card can purchase cryptocurrency in a matter of minutes. Dominguez, the manager, has plenty of time to expand his knowledge. In a small facility, the repetition of entries and exits is boring: usually ten clients show up per day, and practically one every hour. The same ratio is repeated in its space next to the Atocha station, this ratio is somewhat more technical, with screens full of charts where prices describe sharp curves: between 10.00 and 13.30 they received three customers.
As banks reduce the number of ATMs due to the change in the habits of their customers and are now more digital, in the initial bitcoin ecosystem, some believe there is still room for growth in this sector. According to Coin ATM Radar calculations, Spain has about 140 ATMs for acquiring cryptocurrencies, more than double what it was a year ago, making it the third European country with the largest number of machines of this type after the United Kingdom and Austria, in a ranking . It is clear that the United States leads globally.
BitBase is, by far, the most widespread on Spanish soil. Around 60, although that number will soon become outdated: the company plans to open a new store soon next to the Santiago Bernabeu stadium and will extend to Santander, San Sebastian, Cadiz and Vigo. A third of the ATMs are located inside buildings where advisors like Gaetano Domínguez attend with interested in buying, the rest operate without anyone to supervise them, as if it were a bank, placed in areas like shopping malls, where crowds flow assured and it is easier for some to be tempted to take a little bitcoin With Zara and Massimo Dutti bags.
Buying a complete one at its current prices – it cost just over €48,000 at the time of writing, not far from all-time highs – is not possible. Operations are limited to 1,000 euros per day for those who do not want to identify themselves and give only their phone number, 2,500 euros for those who present their documents, a monthly limit of 5,000 euros for unverified customers and 10,000 euros for those who are unverified who have provided their identities. The process has five steps: Choose the cryptocurrency you want to buy – Bitcoin and Ethereum, the largest, are also the most in demand – Select the investment amount on the screen, scan in the ATM reader the virtual wallet they had previously downloaded, enter tickets and receive confirmation.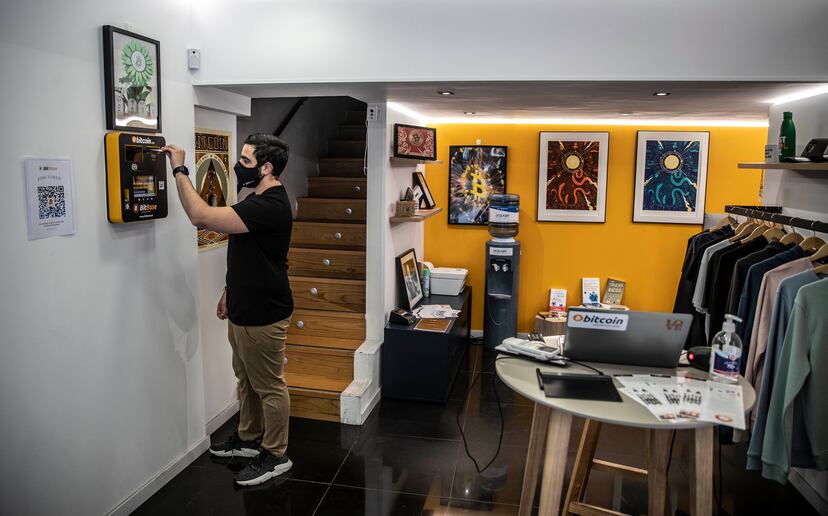 Restrictions on quantities are one of its drawbacks, especially for more experienced investors, who are very short, but it is not the largest: while using Internet platforms – the so-called exchanges– Between 0.1% and 0.5% of the value of the transaction is paid in the form of commissions, here it is between 8% and 10%. Then why would I go to a physical teller? Álex Fernández, CEO of BitBase, defends his other virtues over the phone. It's faster. You can buy right now. It takes three or four days for your money to arrive exchange, at which time what you want to buy can go down or go down."
Although some investors see the presence of ATMs in a field that specifically claims to have been born in the digital world as a hindrance, their presence is not frowned upon among the large companies in the sector. First, because they feel part of a group facing a common front of penetration amid a hostile environment, with a complex regulatory sphere, skepticism of economists and central banks, and distrust of a large part of the population. And secondly, because they consider that for some users it can be a gateway to the world of cryptocurrency before moving on to more complex methods, which can directly benefit them.
Marcus Hughes, Head of Europe for Coinbase, one of the world's largest platforms for buying and selling cryptocurrencies, and the first to move to the New York Stock Exchange, stated: "It's a good way to leave a corporate footprint. Cryptocurrencies, because they make them more visible and help people take the leap out of the financial system. The current system is connected to the new system. Every time a new technology appears, it is useful to provide a frame of reference that links it to the previous technology, and the ATM does that." Raul Marcos, founder of carbon.comYou think it is useful for people who want to buy a small amount or don't want to open an account in the stock exchange.
Liv Ferreira, CEO of Bit2Me, agrees that they can play a role. It is a matter of comfort. There are people who don't trust online platforms much despite their presence in 2021. Or who need someone at their side to advise them, and even more so in a complex product like cryptocurrency," he advocates. His company has invaded the teller business in the past. , but ended up withdrawing the few who were working on a trial basis. "There is a risk hackThey require constant updates and can be physically stolen. There are a lot of things that could have gone wrong already."
Up to €20,000 per ATM
According to BitBase, each ATM costs between 15,000 and 20,000 euros. They are used by about 100 clients per month, mostly men between the ages of 30 and 50 who usually perform an average procedure of 750 euros. It can be bought but it can also be sold. Its CEO Alex Fernandez acknowledges that some incur losses, but generally ensures that they are profitable and reinvest what they earn for growth. He says bitterly that the journey from the first ATM that opened in Barcelona in 2017 to today took place without funding from banks, who were reluctant to lend him money. With the authorities, the relationship was also not easy: it claims to cooperate with the security forces to stop possible cases of money laundering. "We have tools that allow us to keep track of money," Fernandez asserts.
In the building on Calle Princesa, which meets an average of one customer per hour, a young Madrid employee from the financial sector waits at the door to enter. Gaetano Dominguez identifies him as one of the regulars, and agrees to speak on condition of anonymity. Comes to buy 500 euros of bitcoins. "I've been signing up bit by bit for many years, and I also have an account on one of the platforms. Here I only bring spare cash at home, so I don't have to make a transfer and wait for it to arrive. I come, buy and forget," he says. For such a volatile asset, five minutes of conversation may be enough to make the purchase a little cheaper or more expensive. Nothing annoying. Neither the amount is large nor the horizon for short-term investment. He predicts "it will exceed $100,000 within a year." What do you want to buy with what you earn? He says, "Peace of mind." Enter BitBase in the direction of the ATM.
 "Future teen idol. Hardcore twitter trailblazer. Infuriatingly humble travel evangelist."